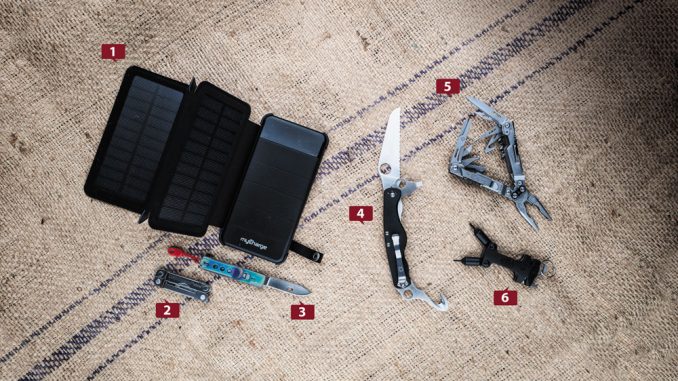 Everyday Carried Accessories
If you emptied out your pockets right now, what would you find? Perhaps a wallet and smartphone? Maybe a set of house keys? There are many pocket-appropriate accessories that compliment any type of lifestyle. Some accessories are useful, some are fun, all can add capabilities to your EDC in different ways. In this edition of Deep Pockets, we look at an array of pocket tools that can benefit those on the go. EDC

1. MyCharge PowerFold
Roughly the size of a wallet, this triple-fold solar panel and flashlight equipped 8000mAh portable charger allows you to charge two devices at one time.
MSRP: $60
mycharge.com
Wish you could carry your multi-tool everywhere? With the Micra, you can. It packs a knife, tweezers, file, scissors and more into a 1.8-ounce keychain-size multi-tool.
MSRP: $30                                                                                                                            leatherman.com
Modular Anywhere Tools transform your everyday carry tools from a bulky, oddly shaped, noisy assemblage of things to a fully customized set of keychain-based tools and tech. The NEBA is one of many options for simplifying your EDC.
MSRP: $16
mykeyport.com
This multi-function pocketknife offers three folding tools, including a fully-serrated sheepsfoot blade, a hook-shaped utility cutter, and a screwdriver blade.
MSRP: $89
spyderco.com
This mini multi-tool delivers full-size utility. It is equipped with all the standard tools and a magnetic hex bit holder, pliers, and corkscrew. Measures only 3.25 inches long when closed.
MSRP: $65
sogknives.com
6. CRKT Knife Maintenance Tool
This keychain tool is equipped with two blade sharpeners and two magnetic hex bit sockets. Included are T6 and T8 Torx bits as well as a bottle opener and flat head screwdriver.
MSRP: $35
crkt.com
Editor's note: A version of this article first appeared in the EDC Buyer's Guide Winter, 2020 print issue of American Survival Guide.