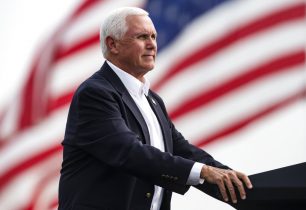 OAN Newsroom
UPDATED 8:32 AM PT – Tuesday, September 15, 2020
Vice President Mike Pence said it was tragic to witness another attack on law enforcement, following an apparent ambush shooting of two Los Angeles deputies over the weekend.
While speaking in Janesville, Wisconsin on Monday, he denounced the rioters who chanted "we hope they die" just outside of the hospital where the deputies were being treated.
The vice president continued to push the Trump administration's stance on law and order as well as the need to restore peace in America.
"The President and I will always support the right of American to peaceful protest, but rioting and looting is not peaceful protests," he stated. "Burning businesses is not free speech, bringing violence against innocent civilians or those in law enforcement must stop and it must stop now."
To the two Sheriff's Deputies who were shot in LA, their families, and all those who love and cherish law enforcement, we are so glad to hear they are on the road to recovery and they will remain in our hearts and our prayers. pic.twitter.com/Hrd6lk2eos

— Mike Pence (@Mike_Pence) September 14, 2020
Pence went on to say he was happy to hear the two deputies are recovering and that they will remain in his thoughts and prayers.
Meanwhile, the reward for information on the suspect in the shooting of the sheriff's deputies has increased to $200,000. The increase came as a result of donations from several anonymous donors and the region's top transportation authority.
The gunman is believed to be a black male around 30-years-old. He was last seen wearing dark clothing and driving a black four-door sedan at the time of the incident.