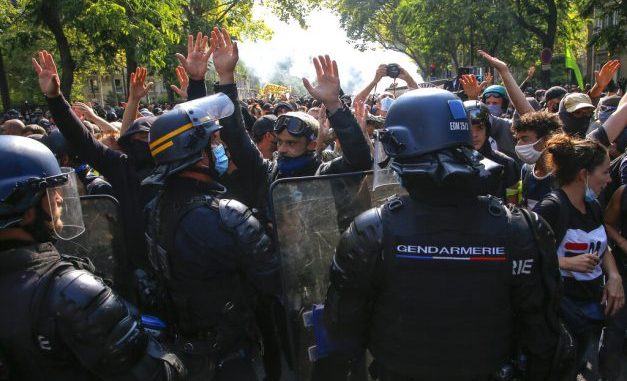 OAN Newsroom
UPDATED 11:10 AM PT – Saturday, September 12, 2020
Yellow vest protesters restarted their demonstrations and clashed with police in the streets of Paris this week. Saturday's march marked the first demonstration by the yellow vest movement since coronavirus restrictions started in France.
Police were deployed to the city and used tear gas against demonstrators, who had left the designated route and set fire to trash bins.
French police fired tear gas under a rain of projectiles and arrested dozens of people on Saturday as thousands of "yellow vest" anti-government protesters returned to the streets of Paris. #YellowVests pic.twitter.com/xDv4WkQoB9

— H24 (@H24News_) September 12, 2020
Ahead of the demonstration, police warned officers would get involved if the situation became violent.
"It should take place peacefully, that there are no destructions," stated Paris Police Prefect Didier Lallement. "If there are destructions, if there is a desire to break things, then of course we'll be present and we'll prevent them from doing so."
This protest also marked the first demonstration under France's new prime minister, Jean Castex.
The yellow vest movement began in 2018 over fuel tax increases. It has since evolved into a larger movement against reforms made by President Emmanuel Macron.