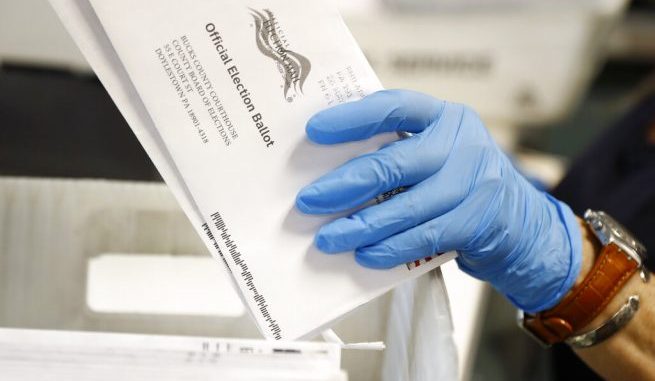 OAN Newsroom
UPDATED 9:50 AM PT – Saturday, September 12, 2020
Election officials in several key states have said they're concerned potential changes to the voting system could upend the coming election. According to reports, ongoing discussion between lawmakers could result in several last minute changes to rules and procedures, which could dictate when and how votes are processed this November.
Their attention is focused, in particular, on Pennsylvania, Michigan and Wisconsin, which are considered to be three of the most competitive states this election season. In these states, officials are prohibited from processing or counting ballots before Election Day.
In Pennsylvania, lawmakers are debating a bill to allow earlier processing. The courts haven't decided if mail-in ballots need to be received or only postmarked by Election Day.
In Michigan, election officials are also seeking to change the law on mail processing. They have been looking for ways to help local clerks speed up the count.
In Wisconsin, a judge has not yet ruled on a Democrat led lawsuit, which sought to lift a requirement that voters provide identification for absentee ballots.
In the meantime, the Trump campaign has said it's fighting for free, fair and transparent elections. The campaign has reaffirmed it is opposed to election officials knowing and potentially trying to change the running tally before Election Day.
Other Republicans officials also continue to push against mass mail-in voting. On Thursday, Attorney General William Barr emphasized voting in person can prevent people from selling votes or being influenced.
"People have to pause and think why we vote the way we do, and why that has evolved over hundreds of years," stated Barr. "People appear in the right polling place where their name is on record, they identify themselves…(and) no one is allowed to go with them while they vote."
Election officials have also said they're concerned about public distrust this election, should the vote swing the outcome in the days following the final vote.
According to analysis, the first numbers counted will be in-person votes, which Republicans have strongly supported. The full number of votes will likely come in the days after mail-in votes, a form of voting strongly supported by Democrats, are counted.
A similar situation occurred in 2018, when Arizona Republican candidate Martha McSally had the lead early on. The election eventually led to a win for Democrat Kyrsten Sinema after all mail-in votes were tallied.
Experts have said, in all likelihood, the actual results will be known sooner rather than later.
"Unless the election is really close, and there's always the possibility of that, the most likely outcome right now is that Biden or Trump wins decisively enough that we know either candidate won," stated Professor Michael McDonald. "We'll be able to call the election outcome nationally based on the data that we are seeing from those fast reporting states."
Several battleground states, including Arizona, Florida and North Carolina, will begin processing and counting mail-in votes prior to Election Day. This could give officials a hint as to where the election is headed.