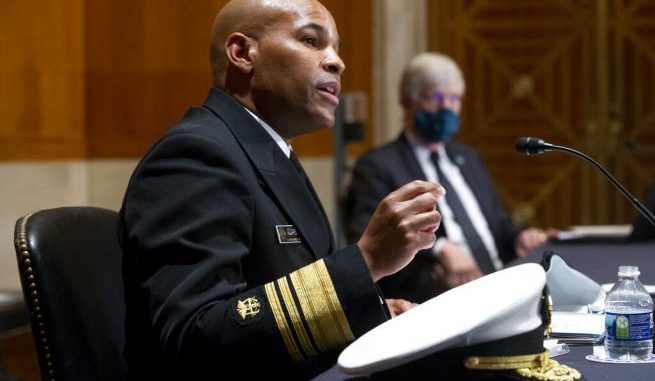 OAN Newsroom
UPDATED 7:02 AM PT – Thursday, September 10, 2020
Advisors on the White House coronavirus task force team have reassured senators the decision to "okay" a COVID-19 vaccine will be based on science alone.
Surgeon General Jerome Adams and Director of the National Institutes of Health Dr. Francis Collins testified before the Senate Committee on Health, Education, Labor, and Pensions Wednesday. The officials stressed the safety and effectiveness of a vaccine will not be compromised by political pressure.
"There will be no shortcuts, this vaccine will be safe, it will be effective or it won't get moved along," stated the Surgeon General. "When a vaccine is either approved or authorized by the FDA, I and my family will be in line to get it."
U.S. Surgeon General Jerome Adams refutes Joe Biden and Kamala Harris' dangerous claims that a coming coronavirus vaccine has been politicized.

"There has been no politicization of the vaccine process whatsoever. We have a process in place that I trust as a doctor, as a dad." pic.twitter.com/HU3gYThcqf

— Trump War Room – Text TRUMP to 88022 (@TrumpWarRoom) September 9, 2020
Officials talked about safety measures being taken in the development process while noting that Astrazeneca's hold on their phase three trials was done out of an "abundance of caution" after they came across possible adverse effects of their vaccine.
"This certainly happens in any large scale trial where you have tens of thousands of people invested in taking part and some of them may get ill," said Dr. Collins. "So this ought to be reassuring to everyone listening when we say we're going to focus first on safety and make no compromises. Here is is exhibit A."
The White House task force advisors also discussed the significance of vaccines in preventing serious virus outbreaks and that the Department of Health & Human Services will be working to improve the public's confidence in vaccines in general.
"Most of the 10 percent that isn't in the anti-vax category, they are in the vaccine-hesitant category and that's who we need to work on," the Surgeon General explained. "We need to work on educating them and engaging them and being compassionate to answer their questions."
Adams also called on Congress members to set an example to Americans by staying up to date on all vaccinations, further advising them to spread the message that vaccines are safe in any ways they can.