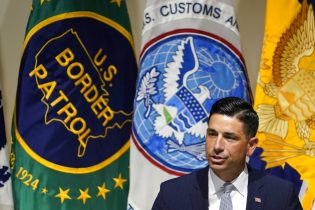 OAN Newsroom
UPDATED 1:16 PM PT – Wednesday, September 9, 2020
Acting Homeland Security Secretary Chad Wolf has refuted the latest Democrat attacks on federal agents, who have been deployed to address the ongoing riots across the U.S. On Wednesday, he claimed the actions of DHS agents in riot stricken areas were appropriate and fully in line with the law.
He has suggested riots are one of the main threats facing the U.S., along with COVID-19, election meddling and drug trafficking.
"Just this week, we're releasing an implementation plan that outlines dozens of separate actions across the DHS enterprise designed to combat domestic terrorism," stated Wolf. "…Let me be clear: DHS stands in absolute opposition to any form of violent extremism."
He went on to say Democrats and mainstream media have falsely portrayed the riots as peaceful protests. He added that unrest was accompanied by destruction of property and attacks on law enforcement.
"Amidst this shifting series of challenges, a vocal and ill-informed minority has clamored to paint recent DHS actions as examples of mission drift or polarization," he said. "They could not be more wrong."