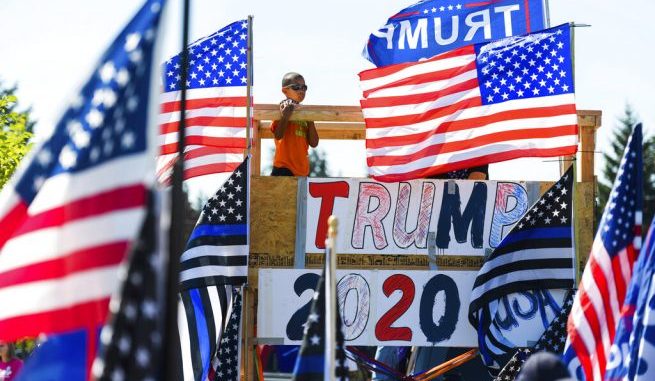 OAN Newsroom
UPDATED 6:09 AM PT – Tuesday, September 8, 2020
Hundreds of the president's supporters gathered for an 'Oregon for Trump' caravan rally on Labor Day. The caravan rode through the suburbs of Portland where they showed their support for the president's reelection while also denouncing the recent violence overtaking the community.
On Monday, hundreds of pro-Trumpers gathered in Oregon City and drove down to Salem waving American flags and donning MAGA gear for miles.
A group of hundreds of Trump supporters is getting ready for a caravan of their own here in Oregon City #Trump #Trump2020 pic.twitter.com/EJtkwJlZiT

— Brendan Gutenschwager (@BGOnTheScene) September 7, 2020
Some of the rally-goers blamed Democrats for the ongoing rioting and looting in Portland, which have gone on for more than 100 nights straight. The caravan avoided actually entering the city of Portland in an effort t "help keep everyone safe."
This took place just weeks after a similar pro-Trump rally, which ended in clashes among protesters. After that rally, Trump supporter Aaron Danielson was shot and killed by Michael Forest Reinoehl who was a self-proclaimed Antifa supporter. Just days after, Reinoehl was shot and killed himself by police.
In a statement on the event's Facebook page, organizers confirmed local law enforcement stood guard at the starting and ending locations to provide a "fun, safe and peaceful event for all participants." Meanwhile, local media outlets confirmed there were no counter protesters present at Monday's event.