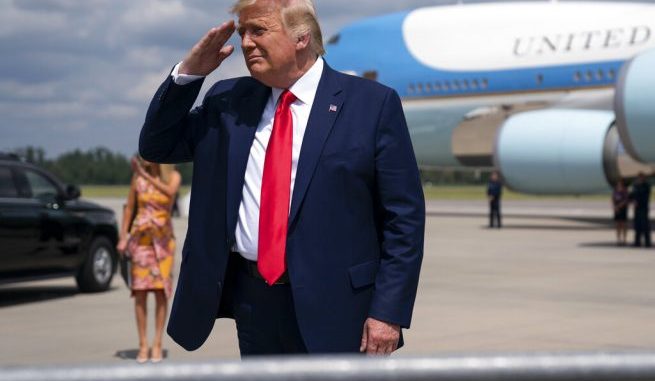 OAN Newsroom
UPDATED 11:45 AM PT – Thursday, September 3, 2020
President Trump said he's looking to cut federal funding to so-called "anarchist jurisdictions" by defunding cities that have allowed a loss of law and order. He's ordered the federal government to start pulling back on funds for four U.S. cities.
Reports Wednesday detailed a five page memo by the president in which he ordered all federal agencies to report to the White House Office of Management and Budget for a detail on funds that can be redirected.
The cities targeted by the move include New York City, Seattle, Portland, and Washington, D.C. According to President Trump in the memo, his administration "will not allow federal tax dollars to fund cities that allow themselves to deteriorate into lawless zones."
The president touched on the issue in a Tweet Wednesday and tagged White House Budget Director Russ Vought.
My Administration will do everything in its power to prevent weak mayors and lawless cities from taking Federal dollars while they let anarchists harm people, burn buildings, and ruin lives and businesses. We're putting them on notice today. @RussVought45

— Donald J. Trump (@realDonaldTrump) September 3, 2020
The memo noted federal agencies have 14 days to detail all federal funds to these cities. It also directed Vought to issue guidance in 30 days on restricting the eligibility to the maximum extent permitted by law of "anarchist jurisdictions" to receive federal grants.
The memo cited New York City's recent increase in crime amid a push to defund police. According to reports, the Big Apple gets around $7 billion a year in federal aid, but also recently approved a budget cutting $1 billion from the NYPD. The budget cut comes as the city has seen a 177-percent surge in shootings in July compared to last year.
New York Gov. Andrew Cuomo called an emergency briefing following reports of the president's memo. He issued what appeared to be a thinly veiled threat at President Trump.
"He can't come back to New York…he can't," aid Cuomo. "He's gonna walk down the street in New York..forget bodyguards..he better have an army if he thinks he's gonna walk down the street in New York."
In the memo, President Trump noted the need to call National Guard troops to Washington, D.C. He said Mayor Muriel Bowser allowed "rioters and anarchists" to engage in violence and destruction in late May and early June.
Portland was also targeted as it nears 100 days of daily demonstrations, many of which turned violent after sunset. Riots recently claimed the life of one demonstrator and agitators were seen breaking into the building where Mayor Ted Wheeler lives.
Seattle was listed for "tolerating an autonomous zone." The memo referenced the infamous 'CHOP zone' that was dismantled at the beginning of July, but not before a series of crimes in and around the zone. This included a shooting that left one man dead.
One official said the cities and possibly states targeted for defunding will be updated with input from the Justice Department.