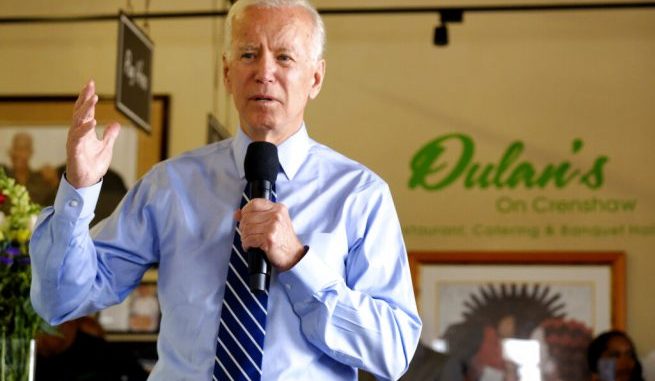 OAN Newsroom
UPDATED 9:40 AM PT – Sunday, August 30, 2020
President Trump has closed the gap in many battleground state polls. Some have suggested the increase in riots and unrest has been a "blind spot" for Democrats this election season.
According to a recent poll, swing state voters supported Biden and the president 49% to 48%, respectively. These results were well within the poll's margin of error and are substantially closer than the 2016 swing state polls, which saw Hillary Clinton hold a 17-point lead in the summer leading up to that year's election.
With these statistics in mind, many on the left have urged Joe Biden to openly condemn the riots.
CNN anchor Don Lemon recently voiced his concern over the rioting in cities across America. He believes the riots are the only major weakness for Biden and has urged the former vice president to publicly condemn the violence.
WATCH: Don Lemon admits that Joe Biden is too weak to stand up to the rioters and looters.

"I think Democrats are ignoring this problem or hoping that it will go away…Joe Biden may be afraid to do it…He's got to address it. He's got to come out and talk about it." pic.twitter.com/JdUQE7yjW4

— Trump War Room – Text TRUMP to 88022 (@TrumpWarRoom) August 26, 2020
One day after Lemon's comments, Biden openly condemned the rioting and looting across America.
"Protesting police brutality is a right and absolutely necessity, but burning down communities is not protest, it's needless violence," he said. "Violence that endangers lives, violence that guts and shutters businesses that serve the community, that's wrong."
Once again, a Black man — Jacob Blake — was shot by the police. In front of his children. It makes me sick.

Is this the country we want to be?

Needless violence won't heal us. We need to end the violence — and peacefully come together to demand justice. pic.twitter.com/WdNqrxA3PK

— Joe Biden (@JoeBiden) August 26, 2020
However, many believe this statement may have come too late.
President Trump commented on Biden's latest move in his nomination acceptance speech the following night.
"During their convention, Joe Biden and his supporters remained completely silent about the criminal-creating mayhem in Democrat run cities. They never even mentioned it during their entire convention, never once mentioned. Now they're starting to mention it, because their poll numbers are going down like a rock in water. It's too late, Joe."
– Donald Trump, 45th President of the United States
Other polls have reflected a 13-point decrease in the approval rating for "Black Lives Matter." Many believe there are similarities between the unrest experienced in the United States now and the unrest seen in 1968.
Widespread protesting and rioting ultimately resulted in a "silent majority" of Americans electing President Nixon, who branded himself as the law and order candidate.
Similarly, a recent post from the Cato Institute stated 62% of Americans are scared of openly voicing their political beliefs. Some have suggested this indicates the presence of that silent majority in 2020.
With all things considered, polls across the board have revealed voters believe President Trump is the law and order candidate, something the Biden campaign may be too late in trying to disprove.