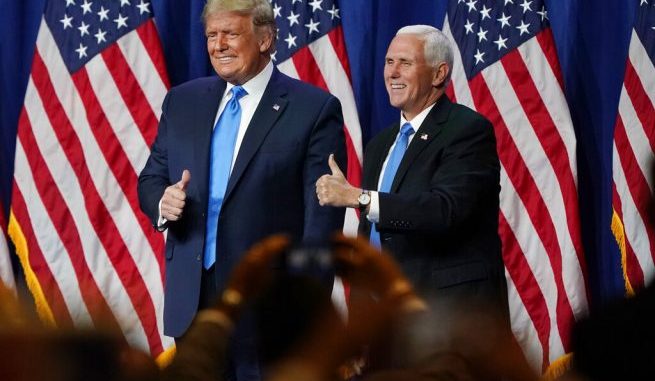 OAN Newsroom
UPDATED 2:45 PM PT – Saturday, August 29, 2020
President Trump has, once again, taken aim at his Democrat opponent for his lax campaign approach. On Twitter, the president pointed out "now that Biden's polls are dropping fast, he has agreed to get out of his basement and start campaigning 'in 10 days.'"
He added, "Sadly, that is a very slow reaction time for a president." The president went on to say "our beloved USA needs a much faster, smarter and tougher response than that."
Now that Biden's Polls are dropping fast, he has agreed to get out of his basement and start campaignin,"in ten days." Sadly, that is a very slow reaction time for a President. Our beloved USA needs a much faster, smarter, and tougher response than that. Get out there today, Joe!

— Donald J. Trump (@realDonaldTrump) August 29, 2020
In contrast, President Trump highlighted his own campaign efforts and pointed to his New Hampshire rally earlier this week.
"I believe he's the worst candidate, the slowest candidate," he said. "I mean, in prime time he was the slowest candidate, which was a long time ago."
The president concluded his remarks by encouraging Biden to do more.
"Get out there today, Joe," he added.
Meanwhile, the Trump campaign and the RNC, along with their joint fundraising committees, have raised a combined $76 million. The major haul was brought in over the course of the four-day GOP convention.
This was $6 million more than the Biden campaign and DNC brought in last week.
On top of these funds, President Trump's acceptance speech garnered an estimated $19 million viewers. Trump campaign officials believe the combination of viewership and fundraising indicates huge success for the president's reelection bid so far.