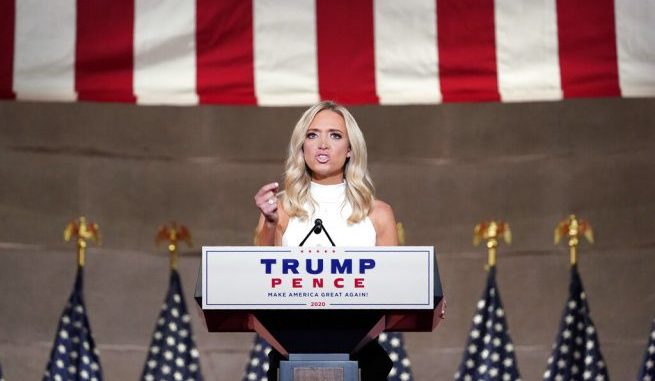 OAN Newsroom
UPDATED 6:56 AM PT – Thursday, August 27, 2020
The Republican Party put the spotlight on American courage with the convention's third night featuring remarks attributing the U.S. as the "land of heroes."
Wednesday's ceremony featured speakers such as Counselor to the President Kellyanne Conway, White House Press Secretary Kayleigh McEnany and former Acting Director of National Intelligence Richard Grenell.
Grenell, who also served as the U.S. ambassador to Germany, used the platform to focus on the administration's dealings with the international community and the future of U.S. foreign policy under President Trump.
"Donald Trump's administration has always made clear that our priority is the American people's security, that's the job of all leaders to put their people first, and we've seen how this strategy has succeeded," he stated. "In four years, Donald Trump didn't start any new wars…he brought troops home, he rebuilt the military and signed peace deals that make Americans safer."
Meanwhile, White House Press Secretary Kayleigh McEnany took the stage to share a personal anecdote on her relationship with the president during which she emphasized the leadership she continues to see from the Oval Office.
Heartwarming speech by @PressSec pic.twitter.com/2kQYRlmHPg

— Benny (@bennyjohnson) August 27, 2020
Also headlining night three was Vice President Mike Pence who delivered remarks from Fort McHenry in Baltimore, Maryland. This was the site of a battle during the War of 1812, which inspired the national anthem.
During his speech, Pence formally accepted the Republican vice presidential nomination and highlighted the administration's achievements over the course of the last few years.
"Four years ago, I answered the call to join this ticket because I knew that Donald Trump had leadership and the vision to make America great again," he stated. "For the last four years, I have watched this President endure unrelenting attacks and get up every day and fight to keep the promises he made to the American people."
Tune in to OAN for LIVE and uninterrupted 2020 RNC coverage starting at 8 p.m. EST / 5 p.m. PST!