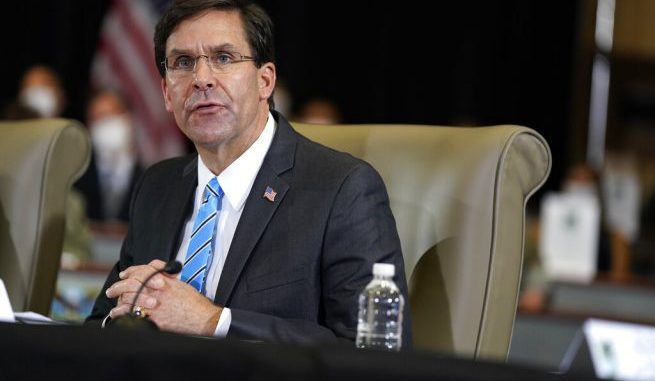 OAN Newsroom
UPDATED 7:08 AM PT – Thursday, August 27, 2020
Defense Secretary Mark Esper recently slammed China during his Pacific tour. While visiting Hawaii Wednesday, he accused China of intentionally breaking international agreements and claimed it has a tendency to bully smaller countries.
The defense secretary also called out Beijing on its aggressive military expansion in the South China Sea, noting that the U.S. will not withdraw its military presence from the region.
Esper's remarks came amid increased tension between the U.S. and China, which flared up after the COVID-19 outbreak and China's increased aggression around the Pacific.
"Increasingly, our like minded partners around the world are experiencing the CCP's systematic rule breaking behavior, debt back economic coercion, and other malign activities meant to undermine the free and open order that has benefited nations of all sizes — China included," he stated.
During his trip to the Asia-Pacific region, Esper is also expected to participate in several ceremonies celebrating the 75th anniversary of the end of World War II.
Today, as we mark the 75th anniversary of the end of World War II, we must never forget the service and sacrifice of the Greatest Generation, who preserved freedom and democracy for the world. pic.twitter.com/h8draJlwL8

— Dr. Mark T. Esper (@EsperDoD) August 15, 2020