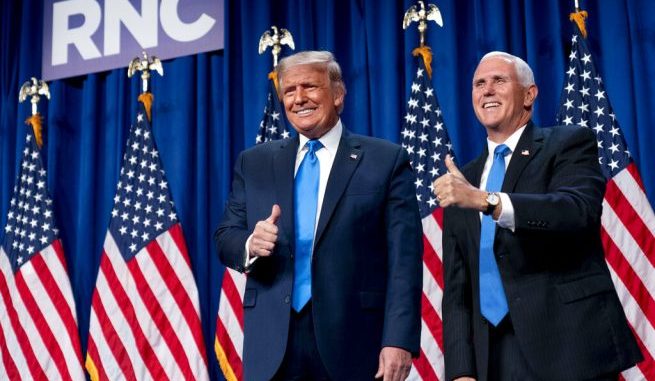 OAN Newsroom
UPDATED 11:29 AM PT – Monday, August 24, 2020
President Trump thanked the Republican Party following his nomination for reelection at the Republican National Convention. On Monday, he spoke in Charlotte, North Carolina during the roll call of states.
The president spoke on the threat of universal mail-in voting, while urging his supporters to closely watch what happens in November since Democrats are laying the groundwork to de-legitimize the vote.
President Trump then said the Democrats spied on his campaign in 2016 and got caught, adding that the only way the Democrats will win is if they rig the election.
"We caught them doing some really bad things in 2016, let's see what happens," he stated. "We have to be very careful because they are trying it again with this whole 80 million mail-in ballots that they're working on."
President @realDonaldTrump: There's no enthusiasm for Joe Biden pic.twitter.com/LkQb5uTCdL

— Team Trump (Text TRUMP to 88022) (@TeamTrump) August 24, 2020
Meanwhile, Vice President Mike Pence was also formally nominated to be the Republican Party's 2020 vice presidential candidate. He was by former Wisconsin Gov. Scott Walker (R) and approved by all GOP delegates.
.@kevinomccarthy: "I am proud to announce the Vice President Michael R. Pence has the unanimous support of this convention to be the Republican Party's nominee for the office of Vice President of the United States of America."

Full #RNC2020 video: https://t.co/ZpNptJvTzQ pic.twitter.com/Umt5NVwoQ0

— CSPAN (@cspan) August 24, 2020
The vice president is expected to accept the nomination Wednesday during a speech at Fort McHenry in Baltimore, Maryland.