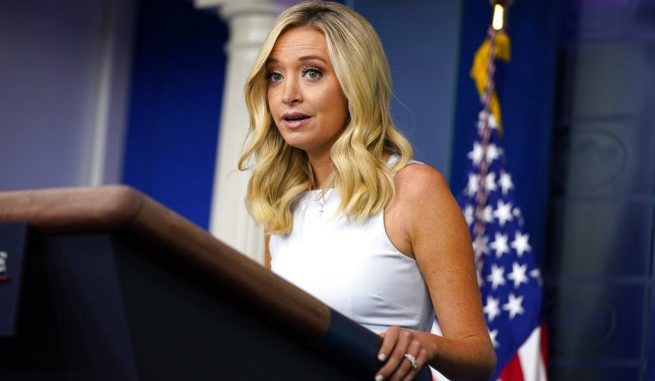 OAN Newsroom
UPDATED 12:40 PM PT – Wednesday, August 19, 2020
White House Press Secretary Kayleigh McEnany called out Democrat lawmakers after they failed to come to a compromise over the latest stimulus relief legislation.
On Wednesday, McEnany emphasized that while Speaker Nancy Pelosi and Democrats went home, President Trump remained hard at work. Amid stalled negotiations in Congress, the president took executive action to stop evictions and cut the payroll tax.
According to the press secretary, Democrats also denied a $10 billion offer for the U.S. Postal Service in order to pursue their latest "manufactured crisis." She has said the White House is open to post office funding, but has been mainly focused on coronavirus relief.
"We're certainly open to post office funding. We did, after all, offer that $10 billion that was turned down. We're open to that, but what we want to see in there is relief for the American people, who are hurt through no fault of their own." – Kayleigh McEnany, White House Press Secretary
"Democrats denied a $10 billion offer for the U.S. Postal Service by this President before they went on recess."

— The White House (@WhiteHouse) August 19, 2020
She went on to say the White House is willing to look at $25 billion for the USPS, but added Pelosi has been entirely uninterested in providing relief to Americans so far.
Meanwhile, White House Chief of Staff Mark Meadows believes a stimulus package will be passed soon, but suggested the legislation won't be as big as planned. While speaking to reporters, he stated he believes a so-called "skinny deal" is more likely to succeed.
"I think the outlook for a skinny deal is better than it's ever been, and yet we're still not there. If Speaker Pelosi moves forward a single bill on postal, that's the first indication that we have that she'll do a skinny bill, because obviously postal was part of the negotiations. So, if she's willing to do that, let's add in the things we can agree upon." – Mark Meadows, White House Chief of Staff
Stimulus talks are expected to resume as soon as this week.