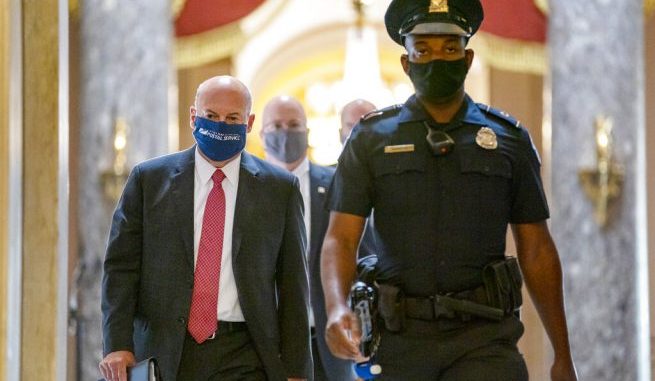 OAN Newsroom
UPDATED 5:15 PM PT – Friday, August 14, 2020
The U.S. Postal Service has been removing hundreds of mail sorting machines from its offices. According to an internal USPS letter, the plan is to remove almost 700 of the machines as a response to the declining volume of letters and increased number of packages being shipped through the service.
Nearly 20 machines have already been dismantled as part of the sweeping changes being implemented within the Postal Service.
Postal workers have expressed concerns over the move. They noted the high volume of letters amid coronavirus conditions have already slowed operations.
Ballots cast by mail in dozens of states might not arrive in time to be counted this November. Officials in 40 states received a letter from the agency, which suggested their deadlines for ballots aren't realistic.
Six other states and the District of Columbia were told that a "smaller subset of voters" there could also be impacted.
Meanwhile, Postmaster General Louis DeJoy has admitted restructuring plans for the U.S. Postal Service has had "unintended consequences." According to a leaked memo, he stated even though the changes were necessary, they've impacted overall service levels.
DeJoy took over as postmaster in June and announced organizational changes at the beginning of August. The changes included staff hours being cut, plans to remove mail processing machines and reassignments for almost two dozen postal executives.
DeJoy previously claimed the policies would increase performance for the election and maintain the highest level of public trust. In the new memo, he defended the moves and suggested recent changes were not the only contributing factors.
He noted "over the years, we have grown undisciplined in our mail and package processing schedules, causing an increase in delayed mail."
The post office came under increased scrutiny as Democrats began pushing for more mail-in voting ahead of the November election, citing public health concerns.
Some believe the USPS won't be able to handle the influx of ballots. One bipartisan bill, which was sponsored by lawmaker Susan Collins (R-Maine), proposed $25 billion in funding for the Postal Service.
"There's no doubt that the Postal Service has long-term financial challenges," she said. "Those do need to be dealt with, but now is not the time to be cutting back services."
President Trump weighed in on the situation earlier this week. He clarified he's not threatening to veto legislation that provides funding to the USPS, but insisted Democrats must be willing to make a deal.
"It's not what I want, it's what the American people want," he added.
Last week, the USPS announced a 3rd quarter net loss of more than $2 billion. Even if Congress provides $10 billion in relief, officials have said it wouldn't address the service's broken business model.