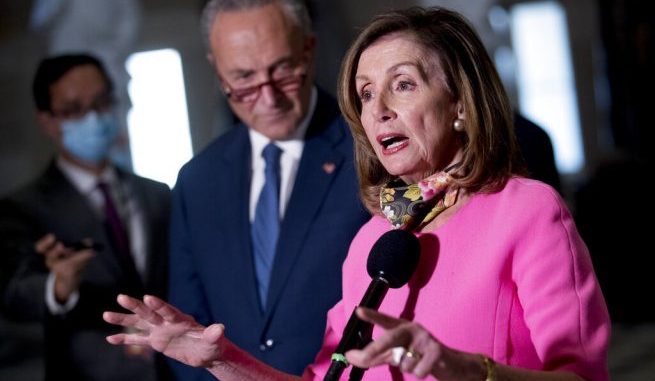 OAN Newsroom
UPDATED 1:20 PM PT – Wednesday, August 12, 2020
According to Nancy Pelosi (D-Calif.), Democrats and the White House are miles apart when it comes to the next round of virus relief. On Wednesday, the House speaker confirmed she and Senate Minority Leader Chuck Schumer (D-N.Y.) haven't met with Treasury Secretary Steven Mnuchin or Chief of Staff Mark Meadows since Friday.
She added she doesn't want to meet with White House officials again until they agree to find a middle ground between their respective proposals.
"There is a big difference, and it doesn't help when people say, 'How come you can't resolve your differences?' It's a chasm because they do not share our values. They don't believe in science, they don't believe in governance. As a practical matter, they're going to have to come to the table." – Nancy Pelosi, Speaker of the House
In a separate interview, Secretary Mnuchin stated he can't speculate if a deal will be reached. He suggested if Democrats are willing to be reasonable, there could be a compromise.
However, he added if they're focused on politics, there won't be a deal.