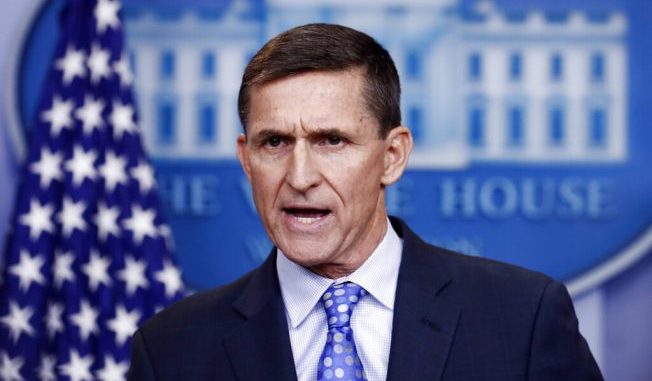 OAN Newsroom
UPDATED 8:19 AM PT – Wednesday, August 12, 2020
The Department of Justice may not be able to sweep the case against former White House National Security advisor Michael Flynn under the rug.
On Tuesday, a full bench of 10 appellate court judges heard oral arguments, where Flynn's lawyers and Acting Solicitor General Jeffery Wall argued to dismiss the case against Flynn.
"Well, you know, people sometimes people plea to things that turn out not to be crimes and the Department of Justice is not persuaded that this was material to any legitimate counterintelligence investigation, so it was not a crime," stated U.S. Attorney General William Barr.
Wall argued that Barr's decision to drop the charges in may stems from "non-public information." He said this came from other internal investigations into alleged Russian collusion and could not be presented to the court.
Flynn's lawyers blasted U.S. District Judge Emmet Sullivan by accusing him of keeping the case alive out of political bias and discarding a judge's role as an impartial adjudicator.
"Well, for some time I've been increasingly concerned that he was just not rational when it came to this case," said Flynn attorney Sydney Powell. "And it looks like it's coming to the ultimate fruition."
Flynn plead guilty to lying to the FBI in 2017 over his contacts with the Russian ambassador to the U.S. amid foreign interference allegations in the 2016 elections. He was scheduled to be sentenced in 2018 by Sullivan, but fired his legal team and went on the offensive to expunge himself of criminal charges.
In June, an appellate panel of three judges ruled in favor of Flynn and called for the Washington, D.C. District Court to cease prosecution.
Legal analysts believe the panel is likely to vote against Flynn, which would allow the the lower court to hear the Department of Justice's arguments on why the legal proceedings should cease.
If this is the case, Flynn and his legal team will likely appeal to the U.S. Supreme Court and it would cause a spectacle for the Trump administration through the November general election.