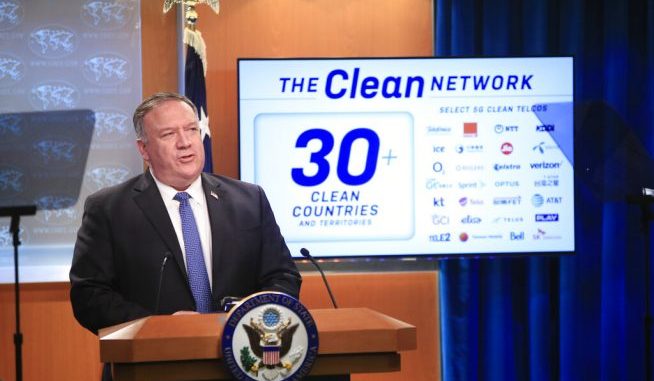 OAN Newsroom
UPDATED 6:55 AM PT — Thursday, August 6, 2020
On the heels of mounting acts of global aggression from the leadership of the People's Republic of China (PRC), America's top diplomat unveiled a comprehensive plan to purge worldwide networks from manipulation by the Chinese Communist Party.
Secretary of State Mike Pompeo continued his ongoing campaign to unite the world's democracies in condemnation of Beijing's abuses during remarks to the press Wednesday. He cited China's crackdown on pro-democracy activists in Hong Kong, its strong arm incursions into disputed waterways and its continued oppression of Uighur minorities in Xinjiang.
Nonetheless, he warned these are far from isolated instances and form part of a wider pattern of disregard for international norms, which is a realization he claimed is dawning on much of the Free World.
"As I said at the Nixon Library this month, freedom-loving nations must come together to confront the CCP's aggressive behaviour and the good news is the tide is absolutely turning," stated the U.S. secretary of state. "The central idea of distrust and then verify, I think the world is coming to see as the right approach to responding to these challenges."
According to Pompeo, a key element in blocking the PRC's ability to extend its influence is to cut off its grip on the world's data infrastructure, which is something he said Beijing has repeatedly used to spy on other nations' citizens and steal intellectual property.
U.S. officials said Chinese intellectual theft significantly damages the American economy, which has resulted in the loss of thousands of jobs and billions of dollars in revenue.
Chinese access to global data also enables the PRC to carry out surveillance efforts, which is a clear threat to national and global security. The administration's 'Clean Network' initiative is designed to counteract this, according to the secretary of state.
"And we are working hard in this administration, the Trump administration, to protect Americans from those threats," he stated. "Today, I'm pleased to announce the expansion of the 'Clean Network' with the launch of five new lines of effort."
The five components Pompeo outlined represent a direct response to key vulnerabilities that currently allow the PRC to more easily hijack data infrastructure for its purposes.
The U.S. expands the Clean Network by launching 5 new Clean initiatives–Clean Carrier, Clean Store, Clean Apps, Clean Cloud & Clean Cable–to secure Americans' most sensitive information from the CCP's surveillance state. We call on freedom-loving nations and companies to join us. pic.twitter.com/BQSk6YFt1M

— Secretary Pompeo (@SecPompeo) August 5, 2020
The components included Chinese companies' access to U.S. telecom networks and app stores as well as Chinese smartphone manufacturers' practice of pre-installing trusted apps on their devices. Also included is the prevalence of Chinese-hosted cloud storage services and the ability of companies like Huawei to service underwater cables that allow for worldwide access to the internet.
The State Department reported more than 30 countries and territories have already joined the initiative. Yet, according to Pompeo, it's imperative as many democratic nations enact its measures as possible if it's to succeed in shielding of the Free World's data from the prying eyes of the PRC.
"We can't allow that to continue," he stated. "We call on all freedom-loving nations and companies to join the Clean Network."