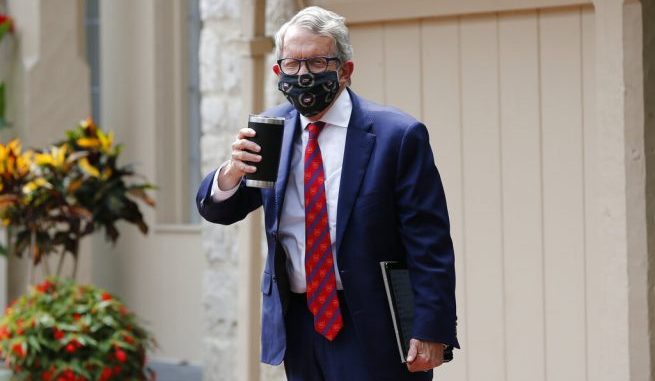 OAN Newsroom
UPDATED 2:15 PM PT — Thursday, August 6, 2020
The governor of Ohio tested positive for coronavirus on the same day President Trump visited the Buckeye State. According to a statement from his office, Mike DeWine was tested on the tarmac in Cleveland on Thursday as a standard protocol ahead of his visit with the president.
Ohio's lieutenant governor was also tested, but his results came back negative.
DeWine is reportedly not showing any symptoms. He and his wife will be heading back to Columbus to be tested again.
Ohio @GovMikeDeWine: "I was tested. I went from there to the airport. When I got to the airport found out shortly thereafter that I had tested positive. That was a big surprise. Obviously, could not see the president…I feel fine. Have a headache, but I get a lot of headaches." pic.twitter.com/4Bn1XYfrfr

— CSPAN (@cspan) August 6, 2020
Upon his arrival in Cleveland, the president wished the governor a swift recovery.
"A very good friend of mine just tested positive, do you know that? Our great Governor of Ohio DeWine just tested positive, and we want to wish him the best. He'll be fine. I guess he is going for a secondary test. …He's a great guy, he's done a fantastic job." – Donald Trump, 45th President of the United States
The governor and his wife are planning to quarantine in their home for the next two weeks.