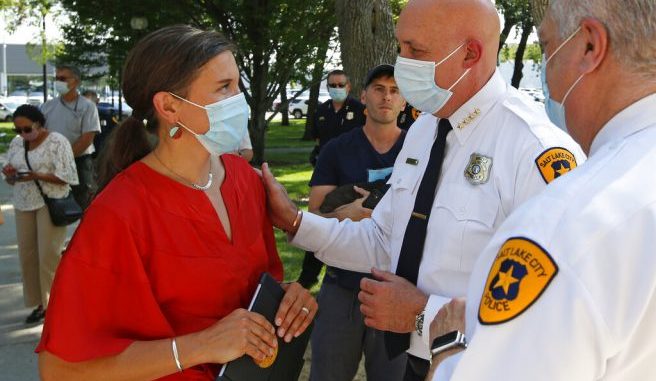 OAN Newsroom
UPDATED 11:20 AM PT — Tuesday, August 4, 2020
The mayor of Salt Lake City, Utah is implementing new reforms for the city's police department amid demonstrations following the death of George Floyd.
Mayor Erin Mendenhall signed an executive order Monday, which will require the city's police chief to enforce several policy changes. The order affects the police department's policies regarding search and seizure, police body cameras and the use of force.
"While our policy currently requires that an officer find it reasonable to believe that a person will use a weapon to harm someone, an officer must now determine that deadly force is necessary and the threat of death or serious bodily injury is imminent," stated Mendenhall. "Necessary and imminent will be carefully defined in our new policy."
"This is not a radical shift for us. Many of these changes we understand to be best practices. We've always held change and evolution as a pillar of our training and that is why we are the best department with the most opportunities." – @ChiefMikeBrown pic.twitter.com/S6R6JIznWP

— SLC Police Dept. (@slcpd) August 3, 2020
Officers will also be expected to stop other officers who are about to use illegal or excessive force. The Salt Lake City Police Department is expected to enact the new policy changes by next month.