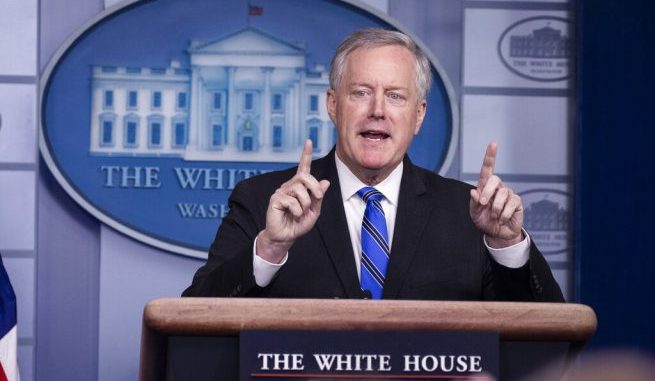 OAN Newsroom
UPDATED 1:50 PM PT — Monday, August 3, 2020
White House Chief of Staff Mark Meadows confirmed this year's presidential election will take place as planned on November 3. He made the announcement during an interview on Sunday.
Meadows suggested, however, there are serious concerns surrounding mail-in voting. Specifically, he said the results of the election could be delayed by several weeks if a wide-scale number of Americans decide to vote using mail-in ballots.
Backing up these comments, Meadows called out New York after the state took more than a month to count all of its primary election ballots.
"Listen, all of this we're talking about comes down to one thing: universal mail-in ballots," he stated. "That is not a good idea for the country, we don't have to look any further than New York to see what a debacle mail-in ballots have been when we have weeks and weeks of delay about who the winner is. Can you image if that is with the president of the United States?"
His comments came after President Trump questioned whether to delay the elections until people can be allowed to safely and securely vote without the potential of inaccurate or fraudulent results. Meadows went on to say that while the president has not actively ordered anyone in the administration to look into this idea, he said many states are simply not capable of handling a vote-by mail system.
"He has not looked at delaying any election, but what we will do is if we try to transform this and start mailing in ballots across the country — all 50 states — what we will see is a delay because we're just not equipped to handle it."
Further, with the possible threat of fraud, Meadows said if a majority of states move forward with a vote-by-mail system then it's likely we wouldn't have election results until upwards of January.
"It is responsible for him to say that if we try to go to 100 percent universal mail-in ballots, will we have an election result on November 3?" asked the White House chief of staff. "No, I would suggest we wouldn't even have a result on January 3, so we have to make sure we do this in the proper way."
Despite these concerns, Meadows remains confident the president will come out on top during this year's election.
"We're going to hold an election on November 3 and the president is going to win," he asserted.