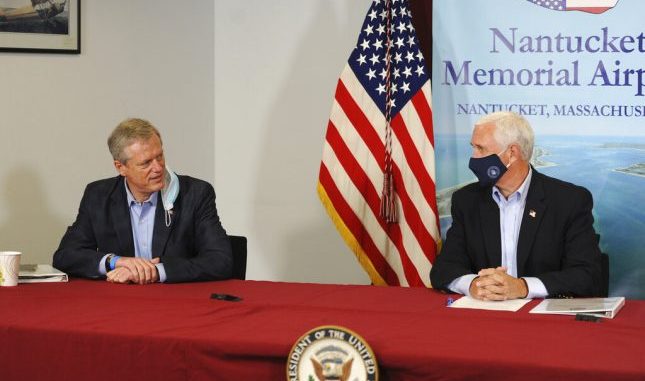 OAN Newsroom
UPDATED 11:00 AM PT — Sunday, July 26, 2020
Vice President Mike Pence commended Massachusetts' coronavirus response efforts during his meeting with Governor Charlie Baker. Pence and Baker held a joint press conference on Saturday in Nantucket, where he praised the state for flattening the curve of the outbreak and having a low positivity rate.
Thank you @CharlieBakerMA for a good meeting today. We are here for you and we will get through this together. We remain strong in our message to states: We will make sure you have what you need to see the people of Massachusetts through this virus. pic.twitter.com/gfsJg8ekPT

— Mike Pence (@Mike_Pence) July 25, 2020
The vice president also hailed the state's testing efforts and its focus on nursing homes. He went on to reaffirm the federal government is committed to helping the state.
He specifically praised the state's work on reopening schools.
"To open up America, we need to open up America's schools. We're truly grateful for the steps that you've taken to deploy more than $200 million in federal resources to support reopening schools, mitigation efforts. As we work with Congress, with the leadership in both parties in the House and Senate, we're going to be providing additional support for Massachusetts schools to be able to open up again." – Mike Pence, Vice President of the United States
As we told @CharlieBakerMA on Nantucket, the people of Massachusetts slowed the spread and flattened the curve and MA now has <2% positivity rate. As @HHS_ASH said, we will continue to make sure MA has the resources and guidance to Open Up your Economy and your Schools ?? pic.twitter.com/yv30AURFyo

— Mike Pence (@Mike_Pence) July 25, 2020
The vice president urged people in the state to keep wearing face masks and practice social distancing.