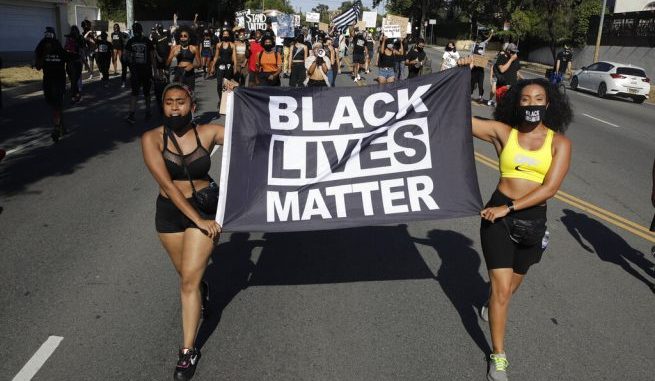 OAN Newsroom
UPDATED 2:30 PM PT — Saturday, July 25, 2020
Dozens of protesters were arrested in Louisville, Kentucky on Friday during a demonstration for Breonna Taylor.
Louisville police arrested 76 people after activists gathered in the city's downtown area. Demonstrators demanded for justice for Taylor, who was shot by police in her home in March.
The demonstration was largely peaceful. However, those arrested were taken into custody for allegedly setting up obstacles in the streets and assaulting officers by throwing objects at them.
Meanwhile, militia group NFAC also marched through the city in support of the protests.
I'm with the NFAC now. About 500 members are here, mostly armed with long guns and wearing black. Word is they're marching into downtown in about ten minutes. I'll be livestreaming again soon. pic.twitter.com/ic6RxyZPrY

— Ford Fischer (@FordFischer) July 25, 2020
"We decided to come down and send a strong message to the powers to be, the judicial system, that we needed to see something," stated group leader John Fitzgerald Johnson.
The size of the NFAC march in Louisville needs to be seen to be believed pic.twitter.com/xaUR3YD0IT

— Joshua Potash (@JoshuaPotash) July 25, 2020
The group wore all black, openly carried weapons and claimed it was their constitutional right to employ the armed militia.
During the demonstration, one armed attendee unintentionally fired his gun. The gunshots wounded three protesters, all of whom were members of the militia coalition.
Footage of the shooting from NFAC Rally in Louisville KYhttps://t.co/p3Y1x18DEY

— Nick (@BotchlaUS) July 25, 2020
The victims were taken to the University of Louisville Hospital. According to authorities, they suffered non-life threatening injuries and are expected to recover.