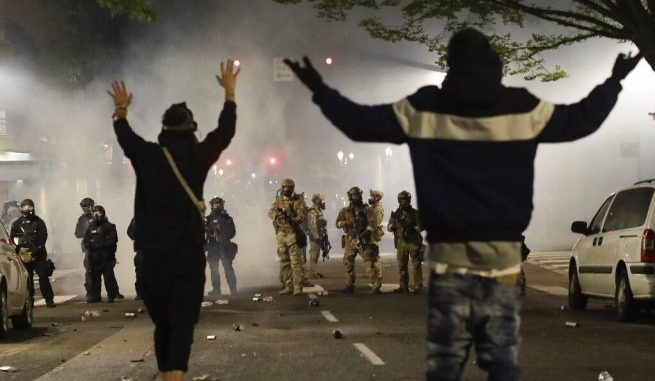 OAN Newsroom
UPDATED 2:10 PM PT — Friday, July 24, 2020
The UN Human Rights Office has criticized the U.S. over the allegedly excessive police force used during protests. On Friday, officials addressed their expectation that all local and federal law enforcement should be clearly identifiable to ensure protesters' safety.
According to a spokesperson for the office, officers should only use force when necessary and need to make sure it is a proportionate response.
She added that citizens have the right to peacefully protest without fear.
"I think what we would say, with regards to other protests, is that it's really important that the authorities should ensure that the people deployed are not threatening use of force to deter peaceful protesters," stated Liz Throssell.
The UN criticism came one day after the Justice Department announced an investigation into the use of force by federal agents against protesters in Portland, Oregon. In a statement, DOJ Inspector General Michael Horowitz confirmed his department and the Department of Homeland Security are working side by side on the matter.
Horowitz has received multiple requests from Congress and members of the public to investigate last month's probe into law enforcement, who clashed with protesters outside the White House.
The review will determine if law enforcement acted in compliance with its rules of "engagement," among other police protocol.