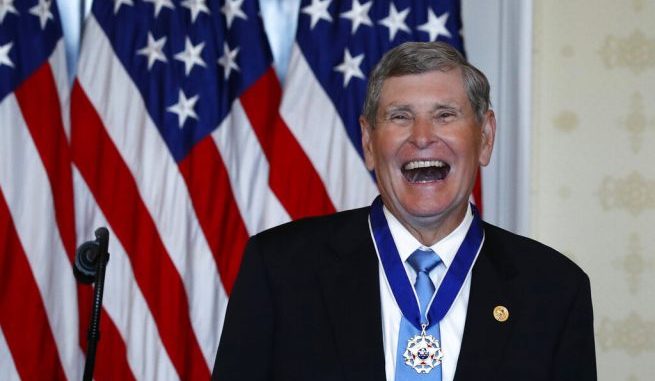 OAN Newsroom
UPDATED 1:10 PM PT — Friday, July 24, 2020
On Friday, President Trump presented the Medal of Freedom to former congressman and Olympian Jim Ryun. The president honored Ryun, who he called a "legendary runner and a true American patriot," in a ceremony at the White House.
He noted the former Kansas representative "personified the greatness of our country throughout his life, whether he was running on a track or running for Congress."
"He's a giant of American athletics, a dedicated public servant, and a man of charity, generosity and faith," stated President Trump. "Jim, thank you so much for your unfailing devotion to our country, and congratulations on a lifetime of incredible success."
LIVE: President @realDonaldTrump presents the Medal of Freedom https://t.co/ohngN9HIkF

— The White House (@WhiteHouse) July 24, 2020
As a 17-year-old junior at Wichita East High School, Ryun became the first high schooler to clock less than a four minute mile. He went on to compete in the Olympics in 1964, 1968, when he earned a silver medal, and 1972.
From 1996 to 2007, he served as a Republican member of Congress.
He has said it was one of the greatest honors of his life to wear the stars and stripes while racing in the 60s and 70s. He added how much he appreciated the president's championing of America.
"The accolades in my life have exceeded anything I could have imagined. Now, Mr. President, with the Medal of Freedom bestowed on me by truly one of the greatest Republican presidents is such a great honor. Mr. President, you have big dreams for America." – Jim Ryun, Silver Medal Olympian
The Presidential Medal of Freedom is the nation's highest civilian honor. President Trump has awarded it to several athletes in the past, including golfer Tiger Woods and former NBA star Jerry West.