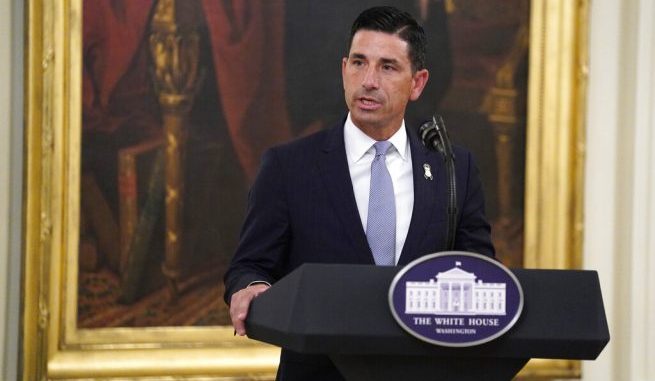 OAN Newsroom
UPDATED 1:52 PM PT — Wednesday, July 22, 2020
A group of Democrat mayors have called on the Trump administration to stop deployments of DHS agents to their cities. On Wednesday, 14 mayors sent a letter to acting DHS Chief Chad Wolf and Attorney General William Barr to express their concerns about the crackdown by Homeland Security Investigations (HSI).
The mayors claimed HSI's actions were a unilateral move by the federal government that violated states' rights. The letter was signed by the mayors of Los Angeles, Chicago and Philadelphia, among others.
All extraordinary federal law enforcement and military presence needs to be withdrawn from American cities @realDonaldTrump. pic.twitter.com/kcdZov4FRF

— Mayor Muriel Bowser (@MayorBowser) July 22, 2020
Despite this, local police officials have backed President Trump's view and stated crime is out of control.
"There is a cycle of violence in Chicago. Someone gets shot, which prompts someone else to pick up a gun. This same cycle repeats itself over and over again. This cycle is fueled by street gangs, guns and drugs." – David Brown, Chicago Police Superintendent
The Department of Homeland Security has said it will continue its mission to put an end to organized crime and political violence, which has swept through Democrat controlled areas.
Meanwhile, New York Governor Andrew Cuomo added there's no need to deploy Homeland Security agents to New York City amid the area's recent surge in crime.
According to Cuomo, the state has the necessary resources to get situation under control. He spoke with President Trump on Tuesday and explained the alarming surge in crime can be managed by the state.
New York Mayor Bill de Blasio has insisted a federal crackdown on crime is illegal.
"What we see happening in Portland, Oregon is blatantly unconstitutional. It is divisive and it is dangerous. You're starting to see an outcry from all over the country of folks who believe in the rights of local areas to decide what's right for them. These federal officers is not welcome here in New York City, is not needed here." – Bill de Blasio, Mayor of New York City
Homeland Security Investigations is also investigating threats to federal property, including statues, monuments and memorials.