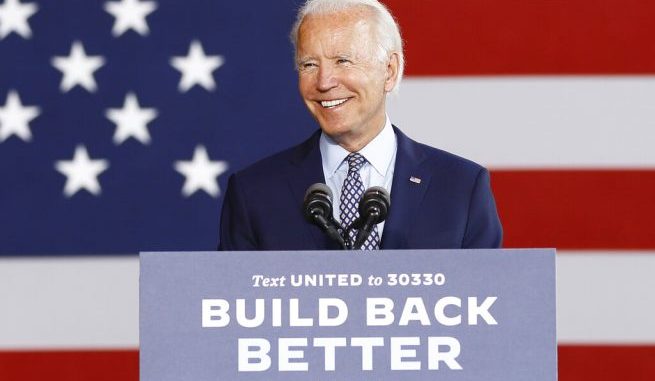 OAN Newsroom
UPDATED 5:15 PM PT —Friday, July 10, 2020
President Trump has expressed that his Democrat opponent has no original thoughts when it comes to handling the economy. While speaking to reporters on Friday, the president slammed presumptive Democrat nominee Joe Biden for his economic plan.
While Biden's idea is progressive overall, President Trump believes the former vice president is copying the general message behind his America First initiative.
"He plagiarized from me, but he can never pull it off. He likes plagiarizing. It's a plan that is very radical left, but he says the right things because he's copying what I've done. The difference is he can't do it." – President Trump, 45th President of the United States
His remarks came after Biden released a plan to help the economy called "Build Back Better." The initiative featured a "Buy American" section, which some argued is similar to the president's 2016 presidential campaign.
When we spend taxpayer money, we should use it to buy American products & support American jobs.

But under Trump, the rate of federal contractors offshoring jobs more than doubled. It's unacceptable.

I'll invest $400 billion in American-made products & keep jobs here at home. pic.twitter.com/iNpPuMzFqC

— Joe Biden (@JoeBiden) July 9, 2020
It also called for more companies to produce goods in America and purchase U.S. made products, something the president has long been calling for.
American workers can out-compete anyone, but they need a government that fights for them. I'll revitalize American manufacturing — especially smaller manufacturers and those owned by women and people of color — and ensure the future is made here in America. pic.twitter.com/lJQBsnRN75

— Joe Biden (@JoeBiden) July 9, 2020
Unlike the president's approach, however, Biden's proposal would include higher taxes for corporations, which Republicans fear could lead to job cuts.
"Way too much, he's raising everybody's taxes," added President Trump. "He's also putting tremendous amounts of regulations back on, and those two things are two primary reason that I created the greatest economy we've ever had."
Some phrases in Biden's proposal are "Make it in America," "Buy American" and "Stand Up for America."
Let's use this opportunity to make bold investments in American industry and innovation so the future is made in America — and in all of America.https://t.co/uTI6Gydi1n pic.twitter.com/8F8Uj2a3BI

— Joe Biden (@JoeBiden) July 10, 2020
President Trump made these ideas his focal point while campaigning in 2016, and even now as he seeks reelection in November.