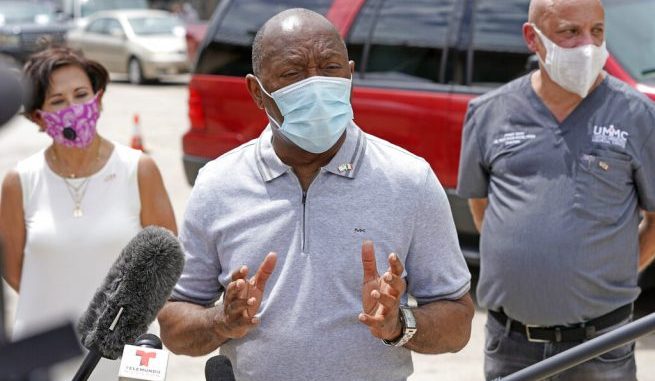 OAN Newsroom
UPDATED 6:25 PM PT — Wednesday, July 8, 2020
Officials in the city of Houston, Texas have cancelled the state's Republican convention. On Wednesday, Democrat Mayor Sylvester Turner announced he has instructed the city's convention center to cancel the event.
Today I instructed the Houston First Corporation to exercise its right contractually in cancelling the State's Republican Convention that was set to take place next week at GRB. #COVID19

— Sylvester Turner (@SylvesterTurner) July 8, 2020
It was supposed to be held there next week, but Turner claimed it would've posed a "clear and present" danger.
"No one wanted to make this even appear to be political," he stated. "Houston is a hot spot right now in a global pandemic and we cannot have thousands of people gathering inside the George R. Brown."
Today's City of Houston #COVID19 update. https://t.co/5jYS9oM3XZ

— Sylvester Turner (@SylvesterTurner) July 8, 2020
The chairman of the Texas Republican Party slammed the decision. He questioned what prompted the move, especially following the mass protests that were allowed to take place in the same location recently.
"This cancellation is not about the health and safety of Houstonians, or the delegates and guests to our convention. We made every effort to conduct our convention in a safe manner, working cooperatively with the convention center (and) going well beyond the requirements of the center's health safety plan. If Mayor Turner's motivations were pure, he could have cancelled the lease weeks ago. Instead, he waited until the eve of the convention to inflict the greatest disruption." – James Dickey, Chairman of the Texas Republican Party
The chairman added the party is weighing its legal options.
"Make no mistake, our state convention will continue unimpeded," he said. "If necessary, we will protect the rights of our delegates and complete the electoral business delegated to us by the U.S. Constitution and the laws of the state of Texas using online technologies."