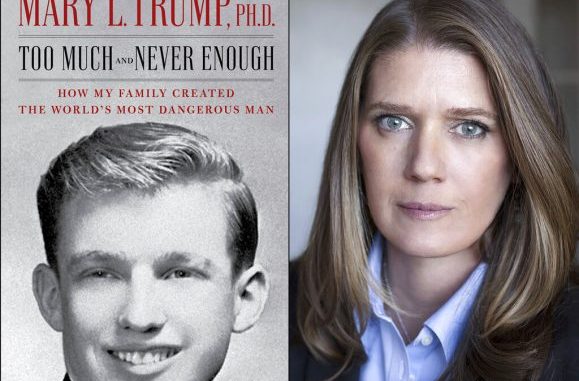 OAN Newsroom
UPDATED 10:48 AM PT — Wednesday, July 8, 2020
White House officials are firing back at the new book written by President Trump's niece and clinical psychologist Mary Trump.
On Tuesday, top administration officials, including Counselor to the President Kellyanne Conway and White House Press Secretary Kayleigh McEnany, denounced the contents by claiming there's no truth to them.
"As for books generally, obviously they're not fact checked. Nobody's under oath. I know there's always this rush to slap credibility on whoever's getting the president that day. Your job is to get the story, not get the president…and I think family matters are family matters."
— Kellyanne Conway, Counselor to the President
Deputy press secretary Sarah Matthews also criticized the book by saying a portion accusing the president of paying someone to take his SAT's is "completely false."
NEW: White House reacts to Mary Trump book allegations.

Deputy press secretary @SarahAMatthews1 tells me the claim that POTUS paid someone to take his SAT is "completely false"https://t.co/F7TYKDTs1t pic.twitter.com/LQyOj9L7lT

— Christian Datoc (@TocRadio) July 7, 2020
"No response, other than it's a book of falsehoods and that's about it…it's ridiculous, absurd allegations that have absolute no bearing in truth," said McEnany. "Have yet to see the book, but it is a book of falsehoods."
Mary, who is the daughter of President Trump's eldest brother Fred Trump Junior, has come under immense fire recently for the controversial book "Too Much and Never Enough: How my Family Created the World's Most Dangerous Man."
Her alleged "tell all" book describes the president as a deeply troubled person, believing it to be a result of a dysfunctional family. She said a slew of problems took a psychological toll on the president, including emotional abuse from his father and the death of her father due to alcoholism.
However, White House officials stressed Mary is not the president's psychologist and think the book stems from family business. The book was scheduled to come out late this month, but high demand prompted publishers to move the release date up to July 14.