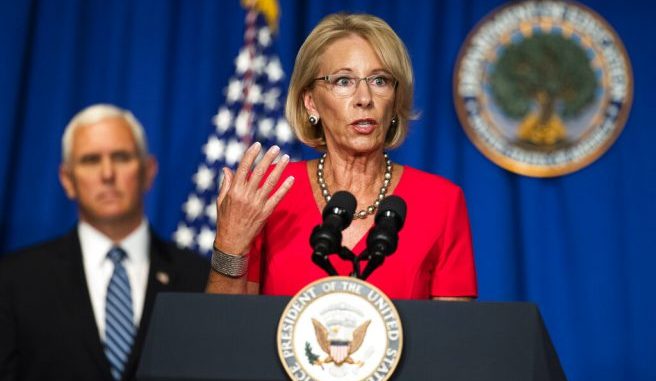 OAN Newsroom
UPDATED 10:19 AM PT — Wednesday, July 8, 2020
Michigan has joined a lawsuit against the Department of Education. On Tuesday, Gov. Gretchen Whitmer announced the state has joined a lawsuit filed by six other states, including California, Maine, New Mexico and Wisconsin.
The lawsuit has accused Education Secretary Betsy Devos of using the rule-making power of her department to redirect CARES Act funds away from public schools and towards private institutions.
While speaking on the matter, Whitmer claimed CARES Act funds were intended to support low-income communities during the pandemic and accused Devos of trying to advance a privatization agenda.
"CARES Act dollars are designed to provide support to schools in low-income areas, but Betsy DeVos and the Trump administration have a different plan," claimed the Michigan governor. "Under their new rule, private schools in affluent districts may receive services."
We should plan and prepare that our children WILL be back in school this fall, @BetsyDeVosED says. pic.twitter.com/P5R4JijcS4

— The White House (@WhiteHouse) July 7, 2020
Devos has denied the claims of the suit. However, she stated that since the pandemic has affected all communities, it stands to reason private school students should also have access to the funds.