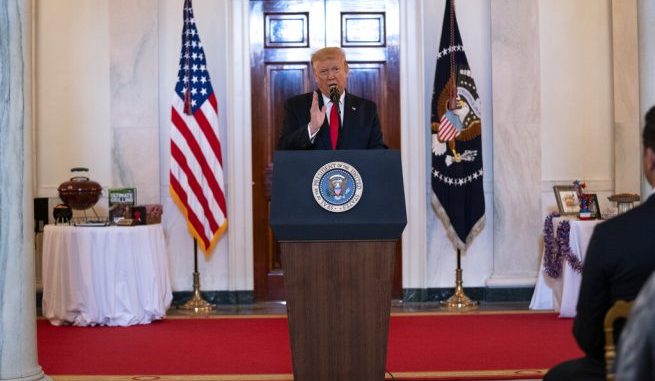 OAN Newsroom
UPDATED 12:35 PM PT — Thursday, July 2, 2020
President Trump touted small businesses and vendors at the White House "Spirit of America" event. Thursday's showcase put a spotlight on American businesses that are staying afloat during the pandemic.
While speaking at the event, the president said, "Every company here embodies true American excellence and stunning craftsmanship."
"Every company here today embodies true American excellence." pic.twitter.com/qzeimfoOl5

— The White House (@WhiteHouse) July 2, 2020
He then cited June as the largest monthly jobs gain in history and suggested more manufacturing jobs and trade deals will be coming back to the U.S.
Not only are 80 percent of small businesses reopening, but NEW business applications have doubled! pic.twitter.com/mLtgxtM1pU

— The White House (@WhiteHouse) July 2, 2020
President Trump also praised the recent progress made by Operation Warp Speed and directed attention to the health of the three coronavirus vaccine candidates.
"We have three vaccine candidates. We've had many more, but three are really looking good. …Three vaccine candidates are now on trial, with three more to start very shortly. These are all great companies, they've had tremendous success with other problems in the past. We're accelerating production through Operation Warp Speed." – Donald Trump, 45th President of the United States
He ended on a high note and guaranteed that by next year, we as a nation will come back economically stronger because of what we're doing now.