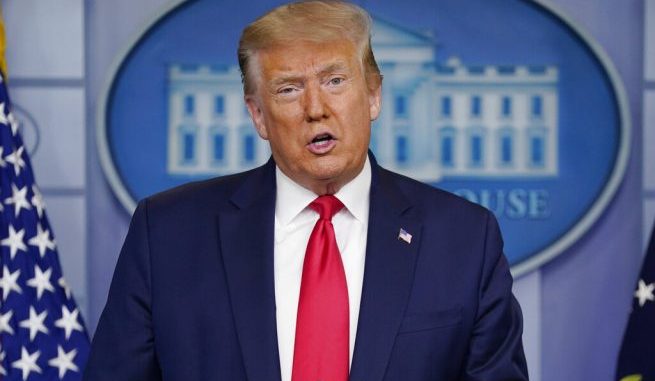 OAN Newsroom
UPDATED 9:34 AM PT — Thursday, July 2, 2020
President Trump said the latest monthly jobs report proves the U.S. economy is roaring back. During a White House press briefing Thursday, he touted the historic 4.8 million jobs added in June.
The president said the boost in consumer confidence, fewer workers dropping out of the labor force and the soaring stock market shows the economy is quickly recovering from its shutdown.
President Trump also noted that his administration and Congress have made efforts to ensure this success and discussed how the Paycheck Protection Program helped save several businesses and jobs.
HISTORIC JOBS NUMBERS! #MAGA pic.twitter.com/ncAkWV0D2c

— Donald J. Trump (@realDonaldTrump) July 2, 2020
The president added that the economy will only get better from here and he anticipated the third quarter will show great numbers before the 2020 elections. He also said 2021 will be a historic year for jobs, companies and growth.
Vice President Mike Pence also expressed optimism over job growth. In an interview Thursday, he echoed the president's remarks that the administration is very pleased with the new numbers.
The vice president said the report shows the economy is coming back strong, which reflects the resilience and hard work of the American people. Pence also credited the growth to the president's actions from the beginning of the pandemic until now.
"It's also a testament unquestionably to the historic steps President Trump took to see this nation through the coronavirus pandemic, the mitigation efforts, the rescue packages," he stated.
Pence finished by saying it's a great day for America and a tribute to the president's leadership.
JOBS, JOBS, JOBS! #MAGA pic.twitter.com/W3Ify8K2tH

— Donald J. Trump (@realDonaldTrump) July 2, 2020