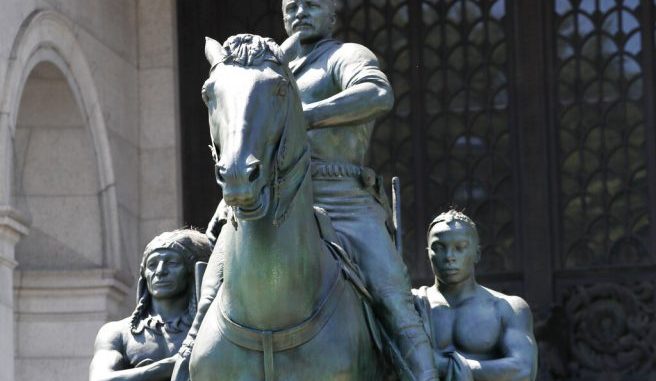 OAN Newsroom
UPDATED 10:18 AM PT — Tuesday, June 30, 2020
Protesters recently rallied around a statue of Teddy Roosevelt in hopes of saving it from removal. On Sunday, dozens of demonstrators gathered in front of the American Museum of Natural History in New York City where the figure is located.
According to those in attendance, they were standing against a proposed removal of a statue of President Theodore Roosevelt from the museum's entrance.
The statue, which shows Teddy flanked by two indigenous guides during an expedition, has been the subject of criticism over its purported glorification of colonialism.
However, opponents of its removal have cited the 26th president's numerous achievements as an example of American values and the continued fight for greater equality.
"Everyone here is here for a good cause and we're trying to make the world a better place, so just talk to us, work with us," said Gavin Mario Wax, President of the New York Young Republicans Club.
Protest in defense of Teddy Roosevelt statue: pic.twitter.com/cihXtRJfKV

— Ben Domenech (@bdomenech) June 28, 2020
The museum, which was established through a donation from the president's father, requested the statue's removal to which the city agreed. No official announcement has been made as to the statue's future should it be removed from the museum's entrance.