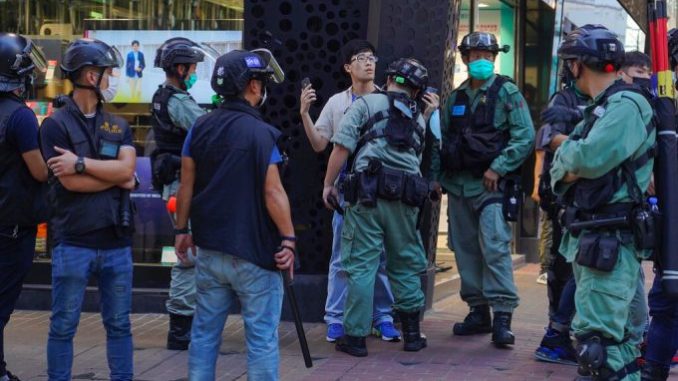 OAN Newsroom
UPDATED 1:10 PM PT — Sunday, June 28, 2020
Protesters in Hong Kong marched against the Chinese government's new national security law this weekend. On Sunday, residents of Hong Kong held a silent protest in the Kowloon district.
Authorities reportedly used pepper spray on some during the march.
Hong Kong Police Crack Down Silent March on Sunday

6.28 | Kowloon

THREAD: Netizens initiated the "6.28 Silent March" at 3pm on June 28 in protest of Beijing's impending National Security Legislation in Hong Kong. The planned route is from Jordon to Mongkok. pic.twitter.com/Mvbl2G0smu

— Hong Kong – Be Water (@BeWaterHKG) June 28, 2020
The demonstrations came just after the Chinese government convened to discuss the new security law, which some believe would infringe on Hong Kong's sovereignty. The law would give Beijing authority to handle criminal cases and decide how to interpret the law in the region.
The Chinese government would also be able to imprison violators of the law for up to 10 years.
"We have been fighting for a long time, it has been one year since we started to protest. The government kept ignoring our demands and upgraded to implementing the national security law. This is a total violation of the 'one country, two systems' framework. We are now under the 'one country, one system regime.'" – Roy Chan, protester
The national security law is expected to pass before Tuesday.