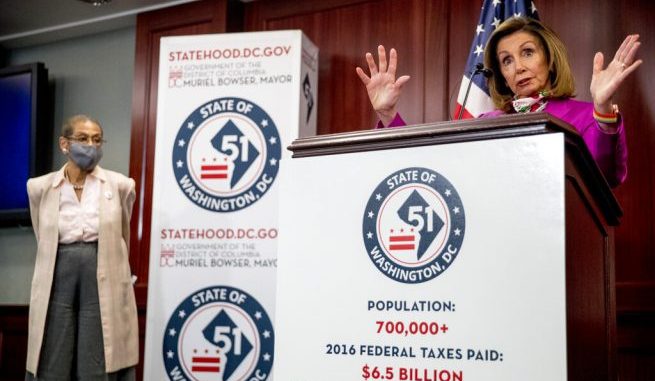 OAN Newsroom
UPDATED 1:00 PM PT — Friday, June 26, 2020
The House of Representatives has passed a historic bill in the push to make Washington, D.C. its own state. On Friday, lawmakers voted 232-180 in favor of the proposal, which aims to grant the District of Columbia statehood and give residents full voting rights in Congress.
#BREAKING: U.S. House PASSES #HR51 #DCStatehood bill, 232-180. https://t.co/Jf6zDRrf8t

Goes now to the Senate. pic.twitter.com/rviiJWYFE5

— CSPAN (@cspan) June 26, 2020
Democrats claimed the district's population has been "disenfranchised too long."
The bill passed mostly along party lines, with all but one Democrat voting in favor and all Republicans in opposition.
"In doing so today, we will bring our nation closer to the founding ideals that all are created equal and that all deserve a say in our democracy," stated House Speaker Nancy Pelosi.
Republicans have voiced constitutional concerns over the bill. According to opponents, it violates the 23rd Amendment by giving the district three Electoral College votes.
Senate Republicans have already voiced their opposition to the bill and President Trump has vowed to veto it if it reaches his desk.