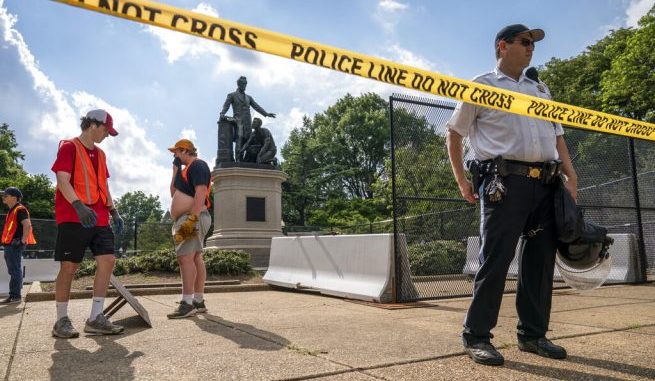 OAN Newsroom
UPDATED 6:00 PM PT — Thursday, June 25, 2020
The U.S. Marshals Service has been called on to protect the nation's monuments as more and more statues, along with other markers, are being targeted by protesters.
According to reports, the Marshals Service assistant director said the agency was asked via email directive to "immediately prepare to provide federal law enforcement support to protect national monuments throughout the country."
He has called the assignment "challenging, considering the breadth of possible targets for criminal activity."
Reports stated the email itself called the request an "attorney general assignment," which implied the request originated from Attorney General William Barr.
The assistant director reportedly asked some districts and divisions to single out personnel who may be able to help with the assignment in the coming weeks.
This week, President Trump announced he was looking to sign an executive order, which would reinforce existing laws to come down on those who vandalize or destroy national monuments.
"We've enacted a very specific statue and monument act that puts people in jail for 10 years if they do anything to even try to deface one of our monuments or statues," he said.
This came after what the president called a "sneak attack" on the statue of President Andrew Jackson near the White House. Demonstrators scaled the statue and wrapped ropes around it in an apparent attempt to pull down the founder of the Democrat Party.
Crowds recently gathered in Lincoln Park to call for the removal of the Emancipation Memorial, which commemorates Abraham Lincoln and the Emancipation Proclamation. Demonstrators threatened to return and tear the statue down if it's not removed.
On Thursday, the president also asked the National Park Service to restore a statue of Confederate General Albert Pike after protesters pulled it down and set it on fire the week prior.