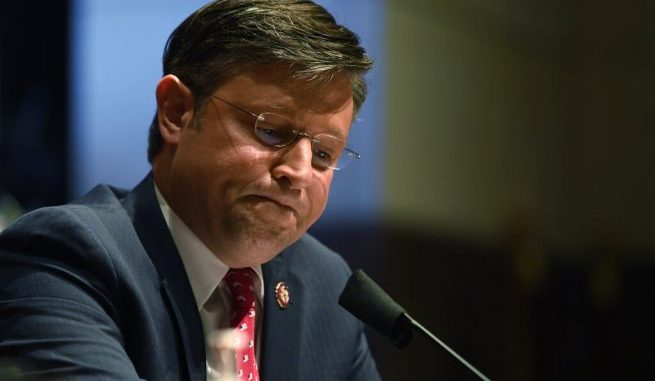 OAN Newsroom
UPDATED 10:10 AM PT — Thursday, June 25, 2020
Rep. Mike Johnson (R-La.) went head to head with Rep. Jerry Nadler (D-N.Y.) during a House Judiciary Committee session. In a hearing Wednesday, Johnson questioned witness Aaron Zelinsky for his decision to appear before the Senate virtually.
Johnson said a witness that testifies in person is "more effective than one who simply phones it in." He also made note of other witnesses that had made the effort to appear physically despite their health concerns.
Chairman Nadler stepped in to say Johnson's actions were inappropriate.
"The gentleman is improper, the witness is complying with the rules of the House," he stated. "We make no distinction between who are present physically and people who are present by video."
Johnson replied by noting that it was, in fact, not inappropriate and said Nadler doesn't get to dictate how he asks his questions. Meanwhile, Zelinsky claimed he did not attend the hearing in person because he has a baby at home.
The hearing was regarding alleged misconduct from Attorney General William Barr. Rep. Nadler has accused Barr of mishandling the resignation of former U.S. district attorney Geoffrey Berman for political gain. He also suggested Barr gave preferential treatment to Roger Stone.
Zelinsky testified that Stone was given a more lenient sentence because he was an ally of the president.
"What I saw was that Roger Stone was being treated differently from every other defendant," he claimed. "He received breaks that are in my experience unheard of and all the mores for a defendant in his circumstances…"
Rep. Jim Jordan (R-Ohio) defended Barr by calling these accusations similar to those of President Trump's impeachment.
"Now we have a so-called whistleblower with no first hand knowledge, who didn't talk to any of the people who made the decision and who is obviously biased against the Attorney General," said the Ohio Republican. "It seems just as bad, just as lame, as what we went through a few months back."
William Barr is expected to testify before the committee on July 28.