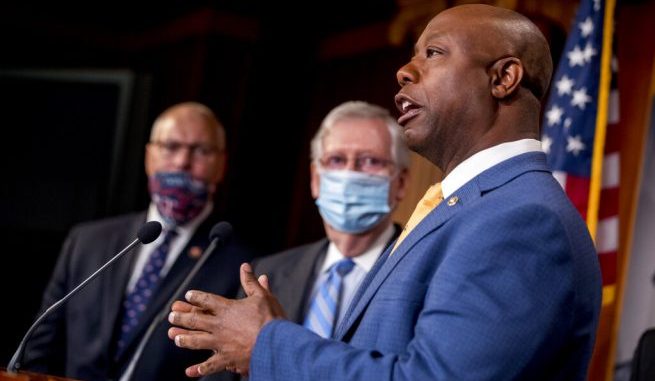 OAN Newsroom
UPDATED 8:40 AM PT — Thursday, June 25, 2020
Top Senate Republicans are calling on lawmakers to put aside politics and cooperate to take action on police reform. GOP leadership in the upper chamber of Congress held a news conference Tuesday, where they outlined the party's immediate legislative priorities.
While speaking ahead of a procedural vote meant to advance the debate on Sen. Tim Scott's (R-S.C.) Justice Act, Republican senators were hopeful as they cited the urgency of moving forward with meaningful criminal justice reform in the face of nationwide demonstrations.
"The only thing between us and achieving that outcome is political calculation, cynical politcal calculation, and it's sad that this falling along party lines and I hope that changes," stated Sen. Todd Young (R-Ind.). "…The American people want this done, it's important that we act and pass this bill."
The conference was not all pleas for cooperation, however, and also saw GOP leadership highlighting issues of vital importance to the party.
The overall tone was one of bipartisanship, however, with senators emphasizing common ground shared with the other side of the aisle and arguing it would be more productive to launch debate on police reform from these areas of shared agreement than to entangle the legislative process with partisan interests.
The Justice Act contains several measures overlapping Democrat demands, including a ban on federal officers' use of chokeholds, the establishment of a national registry outlining instances of police misconduct and increased funding for de-escalation training.
Nevertheless, Democrats have decried the bill as "empty" and claimed it does not go nearly far enough. They are seeking to push forward their own reform package, which is more in line with one advanced in the Democrat-controlled House of Representatives.
Senate Majority Leader Mitch McConnell expressed frustration with this by blaming Democrats for the Senate's current deadlock and for delaying legislation he claimed they asked to have hastened in the first place.
"I know you guys are all suppose to be objective, but the facts are not irrelevant, said McConnell. "And the facts are that there is no downside, none, to the Democrats to get on a bill that last week they were calling me to try to get on before the Fourth of July…it requires some level of cooperation."
Senate Democrats would go on to block the bill from moving forward with only three of them bucking the party line.