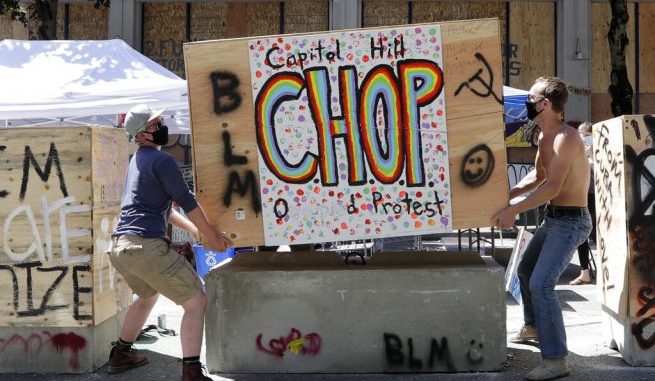 OAN Newsroom
UPDATED 11:36 AM PT — Wednesday, June 24, 2020
Seattle is looking at ways to dismantle the city's "police free" autonomous zone, otherwise known as the Capitol Hill Organized Protest or CHOP. The city's mayor, Jenny Durkan, shared her plans with the public Tuesday.
Durkan said local officials will be working directly with the community to bring an end to the protests as opposed to law enforcement agencies. She said the impact of the protest zone has been increasing, while safety is decreasing. The mayor also noted that "the nighttime atmosphere and violence has led to increasingly difficult circumstances."
"You never know with not having a police presence here, people are free to do whatever they want to do," said local resident Bobby Stills. "And you never know who's who's going to show up."
The mayor said she spoke with local organizations who she hopes will convince the people of CHOP to leave.
"In recent days we have deployed community resources to both de-escelate the area and to move people to services," said Durkan. "We will continue working with and deploying these organizations to change the circumstances on Capitol Hill"
She will also send police officers back into the zone to reclaim their east precinct, which they were ordered to abandon earlier this month. Her remarks came after a violent week in the protest zone, with at least three separate shootings reported in the past few days.
Demonstrators first took over the city's Capitol Hill District on June 8 and have refused to leave ever since.