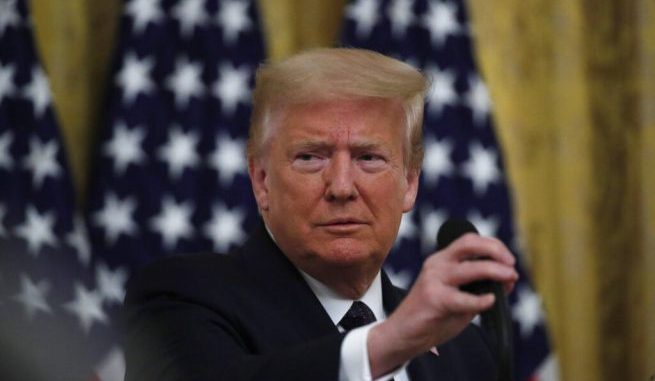 OAN Newsroom
UPDATED 11:44 AM PT — Thursday, June 18, 2020
President Trump said he should have fired ousted National Security adviser John Bolton sooner. In a series of tweets Thursday, the president pointed to when Bolton referenced the "Libyan Model" in regards to North Korea.
….He didn't want Bolton anywhere near him. Bolton's dumbest of all statements set us back very badly with North Korea, even now. I asked him, "what the hell were you thinking?" He had no answer and just apologized. That was early on, I should have fired him right then & there!

— Donald J. Trump (@realDonaldTrump) June 18, 2020
His remarks come as Bolton prepares to release his "tell all" memoir about his time with the administration. He has claimed the president tied most foreign policy to his reelection efforts. The president has continued to slam Bolton's new book by calling it a "compilation of lies and made up stories."
White House press secretary Kayleigh McEnany also blasted Bolton's book by claiming it's debunked by none other than Bolton himself. She made the remarks Thursday morning while speaking to reporters outside the White House.
The press secretary also reiterated the former national security adviser's past praise of President Trump. She called the decision to release the book "absolutely appalling and despicable." She made the following remarks on the matter:
"It's going through the review process, it shouldn't be out. Being in the National Security Committee, John Bolton should in fact understand that. He is a misguided hawk on foreign policy and a weak dove of an author, and this is despicable that he chose to publish this book without fully going through the review process."
McEnany went on to point out that the book contains highly classified information and should not be out. Meanwhile, top House Democrats are now considering their next move after Bolton's allegations regarding President Trump's contacts with foreign leaders.
House Intelligence Committee chairman Adam Schiff and House Speaker Nancy Pelosi are reportedly consulting with each other about Bolton's detailed accusations insinuating the president solicited help from foreign leaders in his reelection bid. The Democrats are reportedly seriously considering a subpoena for Bolton to testify.