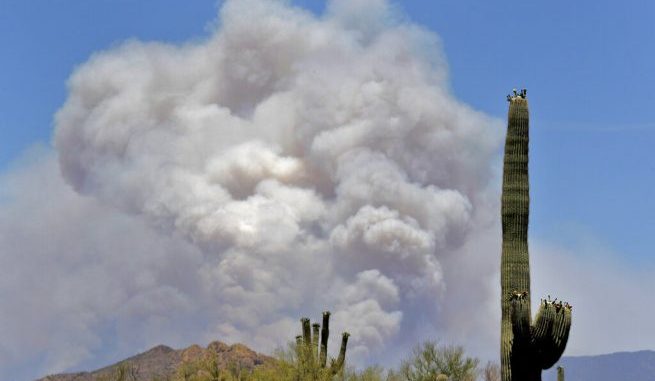 OAN Newsroom
UPDATED 10:32 AM PT — Thursday, June 18, 2020
Arizona emergency crews are working to put out a massive wildfire. The blaze, dubbed the Bush Fire, ignited last Saturday and has more than doubled in size since Wednesday morning. It has burned more than 104,000 acres, so far.
The blaze is now the seventh largest fire in state history and is only five percent contained. The Bush Fire is ravaging parts of the Tonto National Forrest, which is located just northeast of Phoenix.
Get the latest update on the #BushFire smoke patterns with ADEQ's #WildfireSmokeForecast. See how the #smoke is affecting your local community #Payson #Winslow #Heber #Holbrook Learn More: https://t.co/jFcg0aKNJO pic.twitter.com/fe3IJSYzcB

— AZDEQ (@ArizonaDEQ) June 18, 2020
With thousands of acres of land already scorched, officials are urging resident's to evacuate to nearby shelters. However, those efforts have been hindered by the coronavirus outbreak.
As the COVID-19 remains a critical threat, local officials are being tasked with finding a new way to shelter evacuees. The American Red Cross has opened safe centers in the towns of Tucson, Payson and Miami.
According to local media, facilities will have to conduct health screenings prior to accepting evacuees. They will also provide face masks and encourage social distancing to prevent the spread of the virus.
This comes as Arizona has seen a spike in new coronavirus cases. Around 40,000 cases have been reported as the state tries to reopen its economy and get residents back to work.
Meanwhile, the fire has come during a hot period in the west with fires burning in several other parts of both Arizona and California. Officials will have to keep this new health threat in mind when evacuating people from fire zones.