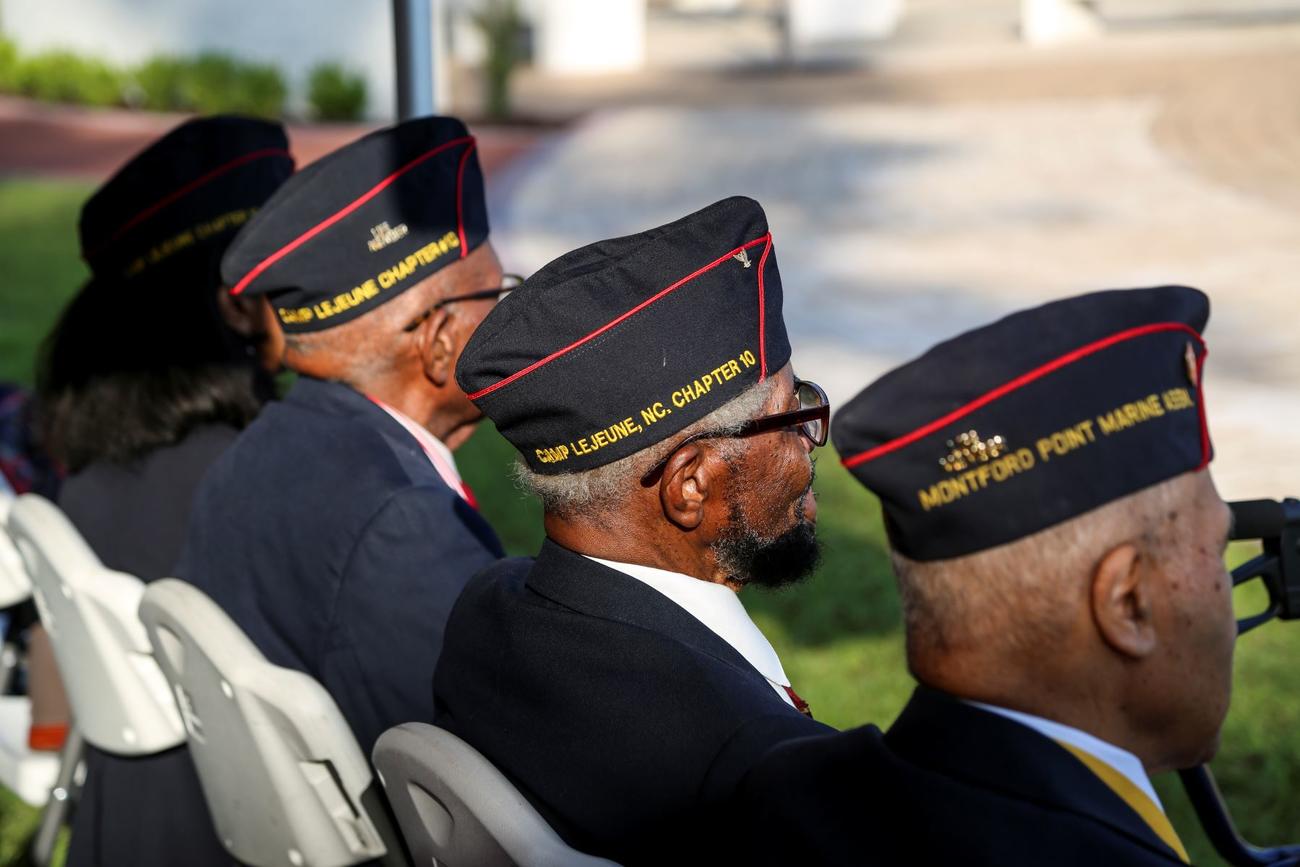 A visitation was held Friday for World War II veteran Jonas Bender who was one of the first African Americans to join the U.S. Marines.
"At the time of his draft, the Marine Corps was an unequal and segregated institution," according to his obituary. "He trained at the segregated Montford Point in North Carolina and went on to serve in the Pacific as a radar operator during the war."
Bender, 94, of Yellow Springs, passed away on May 30.
He was drafted at age 18 and served as a Montford Point Marine from 1943 to 1946.
Jonas was among 200 surviving Montford Point Marines to be honored for their service in 2012 when they were awarded the Congressional Gold Medal.
"The central thing about all this is that the Marine Corps didn't really want us, didn't believe we could do the job and grudgingly moved every step of the way," Bender said when he was profiled in a column by News-Sun columnist Tom Stafford a couple months before the Congressional Gold Medal ceremony.
Bender told Stafford his drill instructors were relentless because they were determined to make sure the black recruits measured up. Still "because of lingering prejudices about blacks' ability to perform in combat, 'we were doing all that kind of grunt stuff,' Bender told Stafford.
He told Stafford the black troops eventually were thrown into combat in Iwo Jima. He said that "when the (fighting) really started, the fellas came through and saved the lives of many Marines, and I think that was a defining moment."
After leaving the Marines, Jonas was determined to make the United States a more welcoming and inclusive place for all races, his obit says. His career included working with at Knoxville College in Tennessee, the Urban League, Frigidaire and eventually in human resources at General Motors.
Jonas, his wife, Ethel, moved to Yellow Springs,Ohio, in 1965 to "raise their family in a place where African American families were welcomed and they knew their children would thrive," his obit says.
While residing in Yellow Springs, Jonas spent a lot of his retirement volunteering and contributing to the community. The Village of Yellow Springs declared Oct. 1, 2012 Jonas Bender Day.
A friend of Jonas, Vietnam War veteran Randy Ark, who met him at Springfield's annual Memorial Day Parade said he was a kind and loving man.
"Jonas was a very kind man, a devout Christian man. He loved his country and his family," he said. "I am a better person for having known him."
Ark said he lost touch with Jonas when his wife passed away, but later found out that he resided at a senior living center close to Fairborn and visited him.
"Jonas was so glad to see me and was taken aback that I would come visit him," he said. "I had so many wonderful visits there and we had some very nice conversations."
According to his obituary, Jonas is survived by his daughter, Jerri Harrison; son, Michael Bender; four grandsons, Brandon and Jordan Harrison, Adam and Ryan Bender; and three great grandchildren, Judah, Micah and Zainah Harrison.
A private family service will take place on Saturday, June 6, at Forest Glen Cemetery. 
This article is written by Brooke Spurlock from Springfield News-Sun, Ohio and was legally licensed via the Tribune Content Agency through the NewsCred publisher network. Please direct all licensing questions to legal@newscred.com.
© Copyright 2020 Springfield News-Sun, Ohio. All rights reserved. This material may not be published, broadcast, rewritten or redistributed.