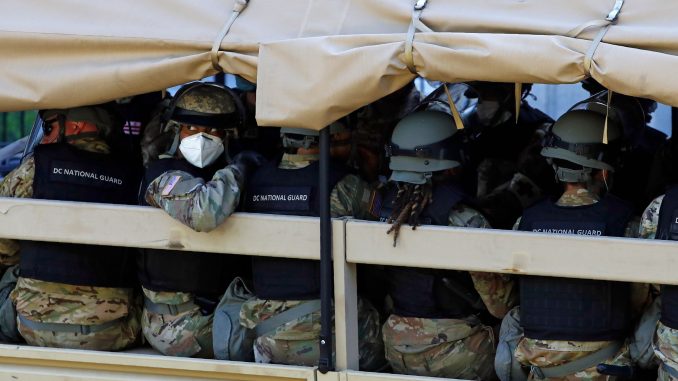 More than 100,000 National Guard troops are now activated for missions across the nation, and the Guard force inside Washington, D.C., to support law enforcement will reach almost 3,000 Tuesday evening as protests continue, the head of the National Guard Bureau said.
Air Force Gen. Joseph Lengyel said roughly 1,500 additional Guard troops from Indiana, South Carolina and Tennessee are joining the response effort in Washington, reinforcing a fully activated D.C. Guard force and augments from the Utah and New Jersey Guard already on the ground.
Read next: Tennessee Guard Lay Down Riot Shields at Request of Protesters
"Obviously, this is a very historic response from the National Guard," Lengyel told reporters in a call Tuesday morning.
Monday evening's protests in Washington, D.C. — part of a national protest movement following the May 25 death of George Floyd, a black man, at the hands of a white officer in Minneapolis — saw "a reduction in violence" from previous nights, Lengyel said, even as an increasing number joined the protest.
Meanwhile, active-duty troops deployed to the region Monday remain outside D.C. and have not yet been ordered to support law enforcement in the district, a senior Pentagon official said.
"There are active-duty forces in the area, placed on a short alert status," the official said.
The official added that the troops are located at bases inside the National Capital Region, but outside the district, awaiting a request for support. Military.com reported Monday that military police from XVIII Airborne Corps had been dispatched from Fort Bragg, North Carolina; it has been reported that the active-duty troops on alert total 200 to 250.
Another senior official indicated that there is significant interest in limiting military protest response to the Guard, avoiding the issue of Posse Comitatus, which prevents Title 10 troops from being used in a domestic law enforcement capacity in most circumstances.
"We really would like to see this stay a National Guard response to the degree that we have to put any uniformed forces against it," the official said.
The head of the D.C. National Guard, Maj. Gen. William Walker, is in charge of all military forces activated in the District of Columbia, officials said, an apparent contradiction of comments made Monday by President Donald Trump, who said in a conversation with state governors that he had placed Joint Chiefs Chairman Army Gen. Mark Milley "in charge." Walker, officials said in Tuesday's call, answers to Army Secretary Ryan McCarthy.
No Guard troops were injured in Monday's protests, Lengyel said.
In D.C., an official said, Guard members carried no nonlethal munitions such as tear gas and rubber bullets, although some are armed with sidearms and long rifles to support law enforcement authorities.
"There were 1,200 national Guard forces deployed throughout the district last evening, but there were far more law enforcement," the other official said. "We were in support … co-located with law enforcement generally in equal numbers."
Across the country, some 42,000 Guard members remain activated for missions related to the novel coronavirus response. More than 18,000 others are now activated to support law enforcement in protests taking place in cities throughout the nation, officials said, and the remainder are supporting more traditional missions. Some states, officials confirmed, have declined requests to send troops into D.C., in decisions they described as weighing state priorities and needs against the ask. These states include New York and Delaware, among others.
The current missions represent the largest Guard activation since Hurricane Katrina in 2005, when some 50,000 were activated for hurricane response and another 100,000 deployed to Iraq and Afghanistan. But even with 100,000 Guard members currently operationally engaged, officials said, there is margin to execute all missions.
"All the states report that, for normal domestic expected activities, everybody's got enough to handle those things," an official said. "We are clearly all still supporting active deployment responsibilities. The short answer is no, we aren't short; no, we're not considering bringing anybody home."
— Hope Hodge Seck can be reached at hope.seck@military.com. Follow her on Twitter at @HopeSeck.
Related: Pentagon Orders Active-Duty Military Police Unit to DC Region Amid Protests
© Copyright 2020 Military.com. All rights reserved. This material may not be published, broadcast, rewritten or redistributed.