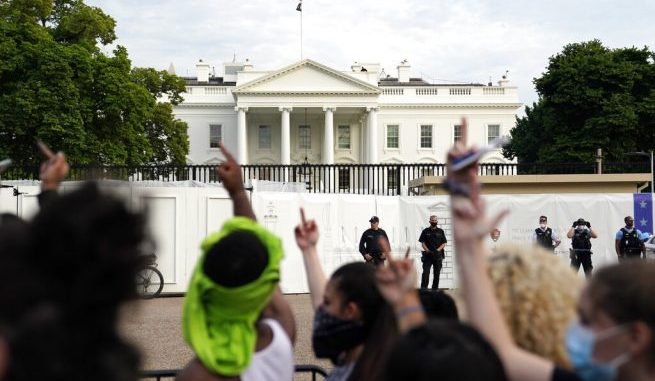 OAN Newsroom
UPDATED 7:20 PM PT — Friday, May 29, 2020
Nationwide protests over the death of George Floyd reached Washington, D.C. on Friday night.
Secret Service ordered the White House go under lockdown due to the massive protests just outside its gates. This left dozens of reporters still inside the West Wing, who were temporarily unable to leave.
Crowds of demonstrators were caught on video knocking down temporary barriers and throwing things at authorities. Demonstrations became so heated that Secret Service agents reportedly had to tackle and take one demonstrator into custody.
The Secret Service is pushing back protesters outside of the White House after demonstrators broke barricades.

The White House is on lockdown as press is being told to stay inside. pic.twitter.com/0p27MRnVUd

— Alex Salvi (@alexsalvinews) May 29, 2020
According to reports, protesters also marched on Capitol Hill and gained brief access to the Treasury Department complex in D.C. The lockdown on the White House has since been lifted.
During Friday's press briefing at the White House, President Trump spoke about Floyd's death and the ensuing riots.
He began by expressing his condolences to Floyd's family and discussing his administration's efforts to speed up the investigation.
"It should never be allowed to happen, a thing like that, but we're determined justice be served," he said.
"I want to express our Nation's deepest condolences and most heartfelt sympathies to the family of George Floyd." pic.twitter.com/eGRIJCiHUa

— The White House (@WhiteHouse) May 29, 2020
The president then reassured the American people that he is working with federal and local law enforcement, as well as the Floyd's family, to ensure the situation is handled fairly.
"We can't allow a situation like happened in Minneapolis to descend further into lawless anarchy and chaos. …The looters should not be allowed to drown out the voices of so many peaceful protesters, they hurt so badly what is happening. It's so bad for the state, that great city. We are working very closely with the Justice Department, local law enforcement. We're speaking with the family and hopefully everything can be fairly taken care of." – Donald Trump, 45th President of the United States
First Lady Melania Trump has also spoken out on the situation in Minneapolis. Earlier in the day, the first lady wrote on Twitter, "Our country allows for peaceful protests, but there is no reason for violence."
She added, "I've seen our citizens unify and take care of one another through COVID-19, we can't stop now."
Melanie ended things off by sending her deepest condolences to the family of George Floyd and encouraged the nation to focus on "peace, prayers and healing."
Our country allows for peaceful protests, but there is no reason for violence. I've seen our citizens unify & take care of one another through COVID19 & we can't stop now. My deepest condolences to the family of George Floyd. As a nation, let's focus on peace, prayers & healing.

— Melania Trump (@FLOTUS) May 29, 2020