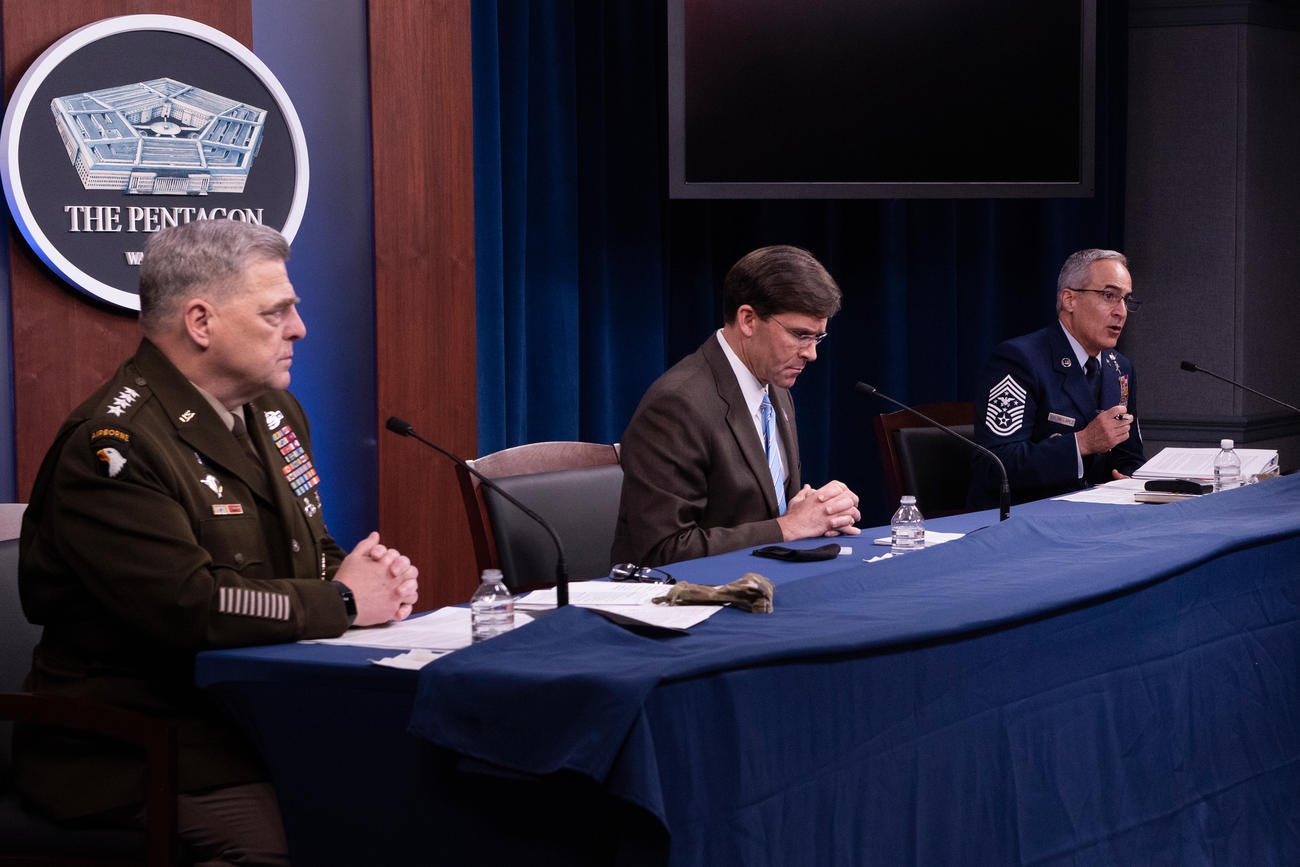 The Pentagon's leadership got an earful Thursday from troops, military spouses and Defense Department civilians at a virtual town hall meeting on everything from travel restrictions to the price of hamburger meat.
Joint Chiefs Chairman Gen. Mark Milley heard from a soldier who said he has been stuck in Kuwait for 14 months with no date for return under stop-movement orders aimed at combating the COVID-19 pandemic.
Read next: Army Shoot-Off Will Pit Israel's Iron Dome Against Foreign Competitors
The soldier asked, "Why can't we PCS?"
Milley said he understands the stress and inconvenience resulting from limits on PCS travel but said they were for the safety of the force.
"I believe he'll probably be able to PCS here relatively shortly" as the military begins to ease the restrictions, he said.
A civilian Defense Department employee who has been teleworking during the pandemic wanted assurances that her workspace would be clean and safe when restrictions are lifted. She also asked whether she could continue to telework if she felt unsafe.
In response, Defense Secretary Mark Esper said, "We are not going to open up the Pentagon or other installations unless we are confident that it is a safe place to work. … We will take it on a case-by-case basis, but we're not going to ask anybody to come back to work in an unsafe environment."
The hamburger question from a sergeant at Fort Meade, Maryland, went to Senior Enlisted Adviser to the Chairman of the Joint Chiefs (SEAC) Ramon "CZ" Colon-Lopez.
The sergeant asked whether the basic allowance for subsistence might be boosted in high-cost areas to deal with the increase in prices during the crisis.
He said the commissary's price for "a pound of cheap ground beef has gone from $2.30 a pound to almost $6."
Colon-Lopez commiserated with the sergeant, but said he would have to wait on lawmakers to get relief, explaining that cost-of-living increases are negotiated each year with Congress.
"I am sure that the impacts of COVID and the pandemic will be reflected in future National Defense Authorization Acts," he said.
Colon-Lopez took another question about soldiers sent as a unit to Fort Campbell, Kentucky, for training who have not been allowed to go home to get their cars.
He said commanders must weigh difficult decisions about risk mitigation and maintaining readiness, while limiting possibilities for exposure to the virus.
"I can almost guarantee that those soldiers will be able to get back to their homes and get their vehicles," Colon-Lopez said. "We'll make sure soldiers get their property in due time."
Most of the questions centered on when and how the stop-movement orders will be lifted to allow for PCSing without asking for a waiver or exception, and to travel on personal leave.
Esper, Milley and Colon-Lopez said a plan is in place for the gradual lifting of restrictions in phases, based on local conditions. But they could give no definite time frame.
"We all want to get back to normal, or a new normal, as soon as possible," Esper said. "We've all been cooped up at home. … We're all anxious to get on with things as best we can."
"For some, it may seem like we're being too cautious. For other folks, it seems too risky," he said. "We're all very conscious of these challenges. We're not going to get back to a normal the way it was, but we will get there."
— Richard Sisk can be reached at Richard.Sisk@Military.com.
Related: Military Stop-Movement Orders to Be Lifted Immediately at Some Bases
© Copyright 2020 Military.com. All rights reserved. This material may not be published, broadcast, rewritten or redistributed.