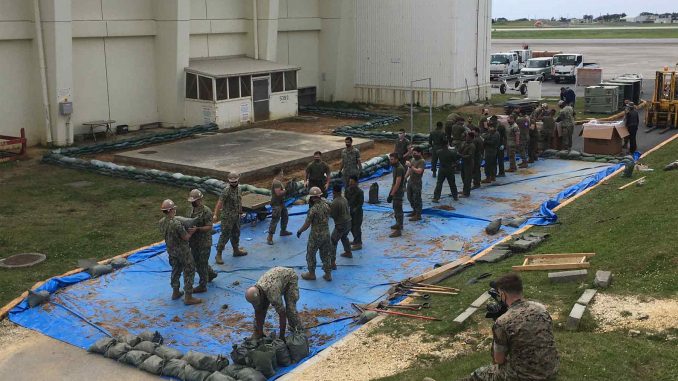 CAMP FOSTER, Okinawa — The Marines on Okinawa removed potentially contaminated soil near a Marine Corps Air Station Futenma hangar Friday following the spill of 60,000 gallons of potentially toxic firefighting foam two weeks earlier.
Engineers and Marines from Marine Corps Installations Pacific removed about 6 inches of soil from a 700-square-foot patch adjacent to an underground storage tank on the hangar's northeast side, Marine Corps Installations Pacific officials wrote on Twitter.
The excavation was designed to be deep enough to remove all "possible contaminants" following the April 10 spill, U.S. Forces Japan said in a statement Friday afternoon.
"We regret this spill and are working hard to find out why it happened in order to ensure an event like this does not happen again," USFJ commander Lt. Gen. Kevin Schneider said in the statement. "However, I am very pleased with the level of cooperation we have seen at the local and national levels as we clean this up and work to manage the global challenge presented by these substances."
Japanese officials are in the "middle of negotiations" with their American counterparts to procure samples from the collected soil for testing, an Okinawa Defense Bureau spokesman said. The bureau represents Japan's Defense Ministry on the island.
The soil removal began around 9 a.m. and was observed by 10 Japanese representatives from the Okinawa Defense Bureau, the Ministry of Foreign Affairs bureau on the island, the Ministry of the Environment, Okinawa's prefectural government and Ginowan city, an Okinawa prefectural government spokesman said Monday.
After Marines removed sizable rocks, the soil was placed in sandbags and then in a cardboard box lined with a plastic trash bag, the spokesman said. It will be stored in a warehouse before it is disposed of off the island.
Okinawan officials said Monday they were concerned that the Marines did not collect enough soil to mitigate potential pollution to the area.
"I don't understand why the U.S. thinks it's OK to simply tear up the soil, from a safety perspective, but not to think what's left underneath?" the prefectural spokesman said.
They were equally frustrated a deal was not struck with the government of Japan for soil collection prior to Friday's base visit.
"The rainy season is approaching, and we cannot afford to wait because the remaining chemicals will soak into the soil, then it will contaminate the groundwater," the prefectural spokesman said.
Some government officials in Japan customarily speak on condition of anonymity.
PFOS, or perfluorooctanesulfonic acid, and PFOA, perfluorooctanoic acid, are found in firefighting foam and are known to cause tumors, increases in body and organ weight and death in animals. The synthetic, fully fluorinated organic acids are also found in aircraft grease, water-repellant materials, cleaning agents and other products.
U.S. military officials in Japan have said the foam used at Futenma contains PFOS and PFOA.
The April 10 spill occurred after something triggered a fire-suppression system inside a hangar at the air station, officials said earlier this month. U.S. military officials have said the spill was an accident.
Of the approximately 60,000 gallons spilled, 22,000 gallons were contained on the base. The remainder of the foam traveled off base through a storm drain and into a nearby stream and neighborhood.
Japanese officials expressed anger at what they called a "mass-leakage incident."
A similar incident occurred in December when a fire suppression system in a Futenma hangar was inadvertently switched on and released firefighting foam. The Marines said nearly all that foam was captured on base.
Okinawa Vice-Governor Kiichiro Jahana on April 17 toured the scene of the most recent spill at Futenma. Japanese government and prefectural officials were escorted on base four days later to collect water samples from the base drainage system.
Prefectural officials expect analysis on those samples sometime around Sept. 10, the prefectural spokesman said Monday.
The cause of the spill remains under investigation, the USFJ statement said. The exposed area at Futenma will be filled in later, Marine officials said on Twitter.
© Copyright 2020 Stars and Stripes. All rights reserved. This material may not be published, broadcast, rewritten or redistributed.