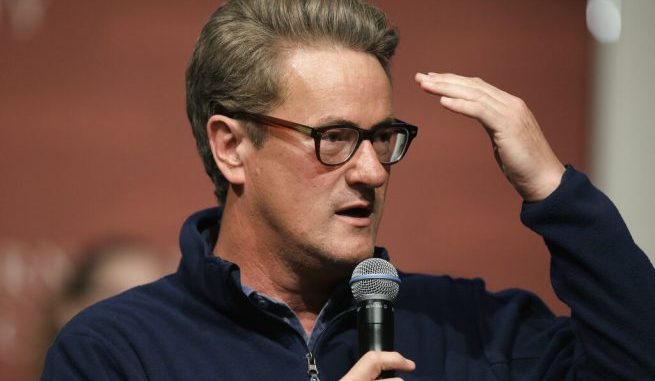 OAN Newsroom
UPDATED 1:23 PM PT — Tuesday, May 26, 2020
A years old case involving former congressman and now TV host Joe Scarborough found its way under the president's microscope. In a series of tweets last week, he alleged Scarborough may have been involved in the death of his staffer Lori Klausutis who was found dead in her office in 2001.
The allegations resurfaced Tuesday morning when the president wrote, "the opening of a cold case against psycho Joe Scarborough was not a Donald Trump original thought, this has been going on for years, long before I joined the chorus."
He went on to call the TV host a "nut job," adding that there are "so many unanswered and obvious questions" that he wouldn't bring up now. President Trump then noted that law enforcement may eventually look into those questions.
An autopsy report found that the 28-year-old had an undiagnosed heart condition, which led her to faint and hit her head on her desk. She was discovered on the floor the following morning.
Klausutis' widower Timothy Klausutis is now asking for the president's tweets to be removed from Twitter. He's claiming President Trump used her death for political gain.
In a letter to Twitter CEO Jack Dorsey, published Tuesday morning, the widower said the presidents message is spreading falsehoods about his late wife's passing by connecting Scarborough to her death.
The widower of Lori Klausutis, whose death Pres. Trump has used to smear MSNBC host Joe Scarborough, is asking Twitter to remove the president's tweets on the subject.

Twitter says it will not. pic.twitter.com/d6YxXP2MkW

— Alex Salvi (@alexsalvinews) May 26, 2020
Twitter responded to those calls in a statement Tuesday. A spokesperson said the company is looking at ways to address the president's tweets regarding the death of the congressional staffer.
While Twitter has not said how it will handle the president's tweets, it said it could flag his messages as false. Meanwhile, Jack Dorsey himself has yet to speak out on the matter.