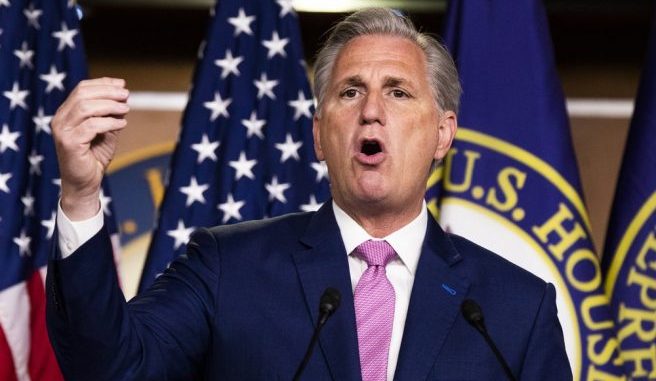 OAN Newsroom
UPDATED 1:20 PM PT — Wednesday, May 27, 2020
House Minority Leader Kevin McCarthy (R-Calif.) has voiced his opposition to the hurried reauthorization of America's most powerful counterintelligence tool. On Wednesday, he stated a new FISA bill must ensure surveillance powers will not be used to spy on Americans.
Recent "Obamagate" revelations confirmed the federal government abused FISA powers to spy on the 2016 Trump campaign.
The minority leader stressed the legislation must protect Americans, not threaten them.
"Moving forward today, it won't be signed into law," said McCarthy. "The president has questions, the attorney general has questions, but the senators themselves disagree with it."
The lawmaker went on to say Congress must work in a bipartisan fashion to add serious privacy protections and anti-terror provisions to the legislation.
"Let's go back work together," added McCarthy. "If the Democrats bring this bill up, they are just playing politics, and this is not something to play politics with."
The House minority leader has also ramped up criticism of so-called "proxy voting" by Democrats. He recently pointed out that the U.S. Constitution mandates lawmakers assemble in person to serve their duty.
This came after Democrat lawmakers proposed voting on legislation without gathering on Capitol Hill, due to coronavirus fears. However, House Republicans have claimed bills passed as a result of proxy voting are legally void and cannot become law.
McCarthy has argued the Constitution must be observed in the legislating process, regardless of circumstances.
"If the Democrats are successful in allowing a proxy vote to make their own rules, what's stopping them from making the rules that only certain people can vote? Nothing. It is very clear in the Constitution, Article One all through: the House is supposed to assemble. This is unconstitutional, what the Democrats are doing." – Kevin McCarthy, House Minority Leader
According to him, House Speaker Nancy Pelosi is trying to impede the reopening of the U.S. economy by preventing Congress from legislating a way out of this crisis.