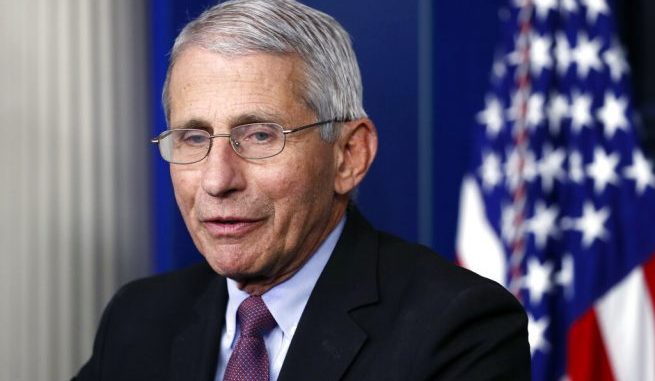 OAN Newsroom
UPDATED 12:45 PM PT — Wednesday, May 27, 2020
Dr. Anthony Fauci recently spoke out about ongoing efforts to develop a COVID-19 vaccine. On Wednesday, he said the accelerated work researchers are doing to make a vaccine will not come at the expense of safety or scientific integrity.
Fauci also believes there's a good chance a vaccine may be ready for deployment by November or December.
He explained how the accelerated process being used to find a vaccine could make one available earlier.
"What we're doing is that we're proceeding what we call 'at risk.' 'At risk' means you take the next step before you have the results of the previous step. The next step is an investment in resources, such as 'making vaccine' before you have a clear-cut signal that it works. That means, if it does work, you've gained a few months."
– Dr. Anthony Fauci, Director of the National Institute of Allergy and Infectious Diseases
The doctor has stressed "we need to reserve judgment" about whether political conventions will be able to go forward in the summer.
Dr. Fauci also emphasized he wants to lead by example when it comes to wearing face masks in public spaces. During a recent interview, the doctor admitted masks aren't "100% effective" at stopping the transmission of coronavirus.
"It's not 100% effective, it's sort of respect for another person and have that other person respect you," he said. "You wear a mask, they wear a mask, you protect each other."
However, he noted in some circumstances, like being unable to maintain social distancing, masks can be one of the only ways to keep yourself safe.
He went on to say masks should be treated as a symbol of solidarity as well.
"I do it when I'm in the public for the reasons that I want to protect myself and protect others," explained Dr. Fauci. "Also because I want to make it be a symbol for people, to see that that's the kind of thing you should be doing."