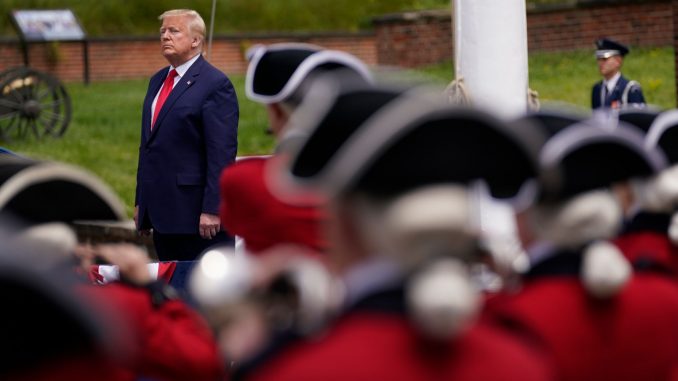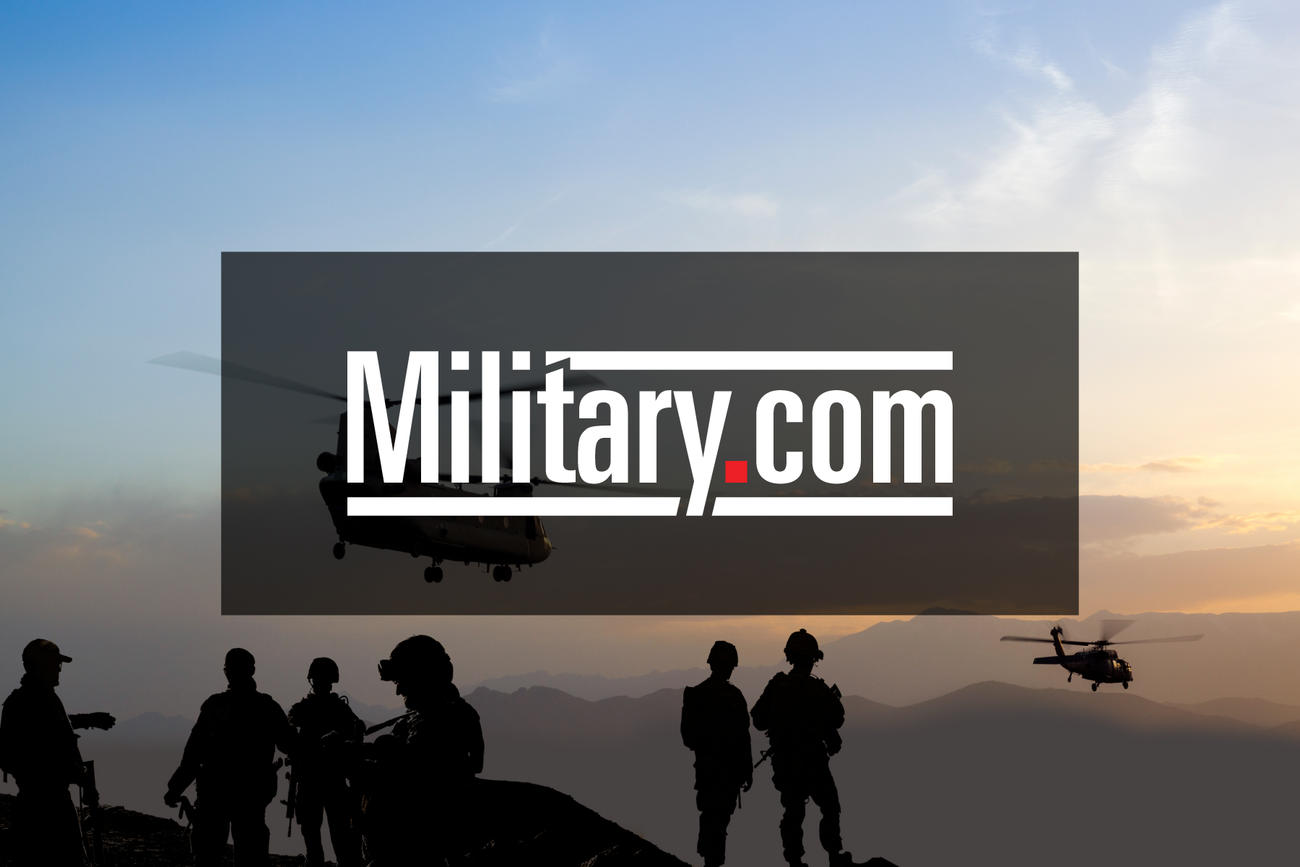 President Donald Trump gave a Memorial Day address at Fort McHenry in Baltimore on Monday honoring recent and past fallen military members and likening their service to those on the front lines battling the coronavirus.
Trump spoke of the virus as an "invisible enemy."
"We mourn alongside every single family that has lost a loved one," Trump said.
But the president said the nation would "vanquish" the virus, likening that battle to Fort McHenry's own noble history. The secretaries of defense and interior and the chairman of the Joint Chiefs of Staff were all on hand.
Trump spoke in a section of the fort surrounded by an embankment and a stone wall. A giant American flag stood to the right of the podium.
Maryland's Republican governor, Larry Hogan, did not attend, saying he was spending the day with his family celebrating his 64th birthday. Baltimore Mayor Bernard C. "Jack" Young had urged Trump to reconsider the visit, saying it set the wrong example as the city remains under a stay-at-home order because of the coronavirus. City Council President Brandon Scott, who is running for mayor, also asked the president to stay home.
Among the guests attending was U.S. Rep. Andy Harris of Baltimore County, the only Republican in the state's congressional delegation. Harris has loudly advocated for opening Maryland businesses.
"The president of the United States comes to Maryland. Why wouldn't I be here?" Harris said.
Harris alternated between wearing a face mask and a full face shield. Most of the spectators — sitting on white lawn chairs in a grassy area facing the podium — also wore masks.
Mayor Young, a Democrat, first asked the Republican Trump to reconsider his visit Thursday. The mayor says the city continues to ban gatherings of more than 10 people, and that city resources were already stretched thin due to the pandemic and would be further strained by assisting with a presidential visit.
The White House didn't budge. "The brave men and women who have preserved our freedoms for generations did not stay home and the president will not either as he honors their sacrifice by visiting such a historic landmark in our nation's history," White House spokesman Judd Deere said.
Fort McHenry closed to the public March 28 to prevent the spread of COVID-19, which has sickened more than 46,000 Marylanders and killed more than 2,100. National Park Service properties, including the Grand Canyon, have been gradually reopening in a phased approach, but the fort remains shut down.
The security extended to officers cruising on the Patapsco River. The fort is separated from the river by stone sea walls dating to the 19th century. The security included contactless temperature screenings for guests.
Trump and the first lady attended a wreath-laying ceremony earlier at Arlington National Cemetery.
Dozens of Trump supporters gathered outside of Fort McHenry's blocked off entrance Monday morning. Hardly any wore masks.
Some held signs demanding that Maryland "reopen" and suggesting the pandemic response is being overblown.
Gina Witcher knelt on the grass to finish drawing out her message on poster board: "All jobs are essential," it read.
She came to Monday's event with her four sons, including one dressed like the president in a red tie and Make America Great Again cap. The 11-year-old boy dressed similarly for a recent school dance.
Witcher, a teacher in Anne Arundel County, said while she's kept her job, she's saddened by the thousands who have lost theirs because of the pandemic.
"At this point people are losing livelihoods," she said. "You should give people the choice to open businesses at this point."
It was important, she said, for the family to come express their support for Trump this Memorial Day.
But she said it didn't feel necessary for her or her kids to don masks. Witcher says she thinks COVID-19 mostly represents a threat to the elderly and those with underlying conditions.
"The body, if it's healthy, it'll fight off a lot," she said.
The Centers for Disease Control recommends people wear cloth masks in public because it could help people who may have the virus and not know it from transmitting it to others.
Shane Bloyer, 52, said he came from Rosedale to support Trump after the president said recently that he considers places of worship essential and wants churches to reopen.
Bloyer's church has been holding online services since the pandemic hit Maryland, but he says it's not the same.
"We just want to come together to pray for our nation," he said.
The demonstration outside Fort McHenry was in the middle of many unsuspecting joggers' regular routes. As one man ran through, he flipped off the Trump supporters and yelled out, "Go back to the county!"
Democrats outnumber Republicans 10-to-1 in Baltimore, and Trump is deeply unpopular. A train graffitied with obscenities against Trump motored by during the gathering.
The overwhelming majority of people gathered outside the national monument entrance were Trump supporters.
But Valeria Pappas, a lab technician, came to protest the president and the inaction she feels led to countless more COVID-19 deaths.
"Things could've been different for Americans," she said.
Trump made his first visit to Baltimore as president last September, addressing U.S. House Republicans holding a retreat in the city. His motorcade was met by noisy protests along the downtown route.
Last July, the president began a string of tweets and comments attacking Rep. Elijah Cummings — who died in October — as well as the congressman's hometown of Baltimore and his 7th Congressional District, which the president called "rat and rodent infested." Later in the same week, Trump alleged billions of dollars in federal aid to the city was "wasted" and "stolen." City officials disputed that claim, and Trump never offered evidence.
This article is written by By Jeff Barker and Talia Richman from The Baltimore Sun and was legally licensed via the Tribune Content Agency through the NewsCred publisher network. Please direct all licensing questions to legal@newscred.com.
© Copyright 2020 The Baltimore Sun. All rights reserved. This material may not be published, broadcast, rewritten or redistributed.